By Shahzad Saeed on December 28, 2016 in Sales Strategy
Did you know that an average email subscriber gets 416 commercial emails per month? That means each day more than 13 commercial emails are hitting the inbox of your email newsletter subscriber.
If you're looking to grab the attention of your subscriber and increase email open rates and click-through rates, you'll need to personalize the emails tailored to their unique behavior and interests of each recipient.
With that said, it is almost impossible to manually personalize the emails you send to your potential customers. Here is where email segmentation comes in. 
Email segmentation is the process of classifying your leads into distinct groups on the basis of interests, behavior geographic locations, etc., so you can send personalized targeted emails to each group addressing their common interests.
When done correctly, email segmentation is proven to bring in more revenue to your table. In this post, let's take a look at various email segmentation methods for your ecommerce business.
Email preferences
Admit it- oftentimes, marketing emails are annoying.
For instance, if you're sending too many emails to your potential customers, it is very likely that they will opt-out from your email list.
So ask your subscribers how often they wish to receive your emails and the types of email they'd like to receive from you.
In fact, sending emails on the basis of email preferences is one of the best ways to ensure that your emails are not annoying your potential customers. It also helps you to retain them on the list.
By asking email frequency preferences, Bonobos has successfully retained 25% subscribers who would have otherwise opted out from the list.
Customers' interests
Needless to say, showing recommended products is one of the most effective ecommerce marketing tactics.
In fact, a study conducted on more than 100 ecommerce retailers reveals that the conversion rate for recommended products in the shopping cart was 915% higher than the average. Needless to say, if you're not recommending customers to purchase the products they're interested in, probably you're losing many sales.
By learning the onsite user behavior, you can segment your leads into a distinct group on the basis of common interests. This strategy will help you to send targeted emails to each group. Moreover, you can suggest them to purchase recently viewed products or products that are closely related to what they've purchased recently.
Phases of sales funnel
During the first-time visit to your store, 95% of your potential customers are not ready to purchase right away. On average, it takes three to four visits to your website for them to actually think of buying from you.
Before hard selling to the newly joined leads, make sure to nurture them through different phases of a customer lifecycle. That means before trying to make a sale, you'll need to create a strong bonded relationship with your potential customers.
For instance, you can send welcome emails to newly joined leads. Slowly you can nurture them to become your customer.
Once they became a customer, you may segment them into your existing customers' group so that you can encourage cross sales and up sales.
Inactivity
It is quite common to have many inactive email subscribers in a huge email list.
You might already have a customer retention strategy for your ecommerce business. Similarly, you'll also need to have a strategy for retaining your inactive email list.
You can segment your inactive leads in a group and send them customized email for encouraging email engagement.
When it comes to email marketing, this one is an essential step because it is easier to retain your existing subscribers than acquiring new ones. Besides that, your inactivity segments will help you to improve the ROI of your ecommerce business in the long run. 
Let's take a couple of examples of how companies are using inactivity based segments for retaining their existing leads.
Rite Aid reaches out to their lapsed leads and conducts an incentivized survey to get insights about their inactivity.
In fact, surveying your inactive customers will help you to figure out the exact reasons for inactivity so that you can come up with measures to reactivate them.
If you're looking to create a survey on your WordPress site, just install a free plugin like Captain Form and start surveying your inactive users.
SideKick uses inactivity data in a different way.
They used to send an unsubscription notice to their leads who haven't engaged with their email for a while. As a last chance, they encourage users to remain in the list by clicking the 'Keep me subscribed' button.
This strategy of nurturing their list helps them to build a highly engaged email list.
Abandoned shopping cart
As an ecommerce marketer, one of the biggest challenges you'll need to tackle is to reduce the shopping cart abandonment rate. Indeed, cart abandonment is one of the most important KPIs that can influence your overall sales and revenue. According to Baymard, the average documented online shopping cart abandonment rate is 68.53%.
ModCloth used to send a beautiful email to customers who have added a product to cart but didn't complete the checkout process.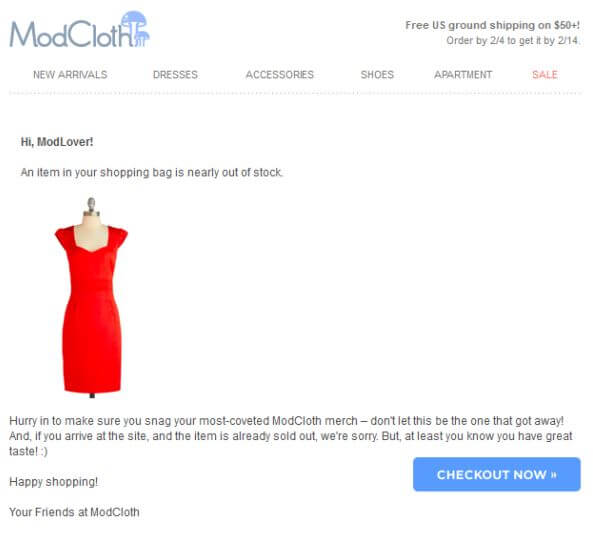 Using scarcity principle, they entice users to quickly complete the checkout process by telling them that the item they ordered is nearly out of stock.
Average Order Value
Average Order Value (AOV) is another important KPI of your ecommerce business. AOV tells you on average, how much money each order brings in to your table.
Let's take a look at how Fiverr tries to raise the AOV by sending a personalized email to a distinct group of customers.
When making a purchase, Fiverr encourages users to spend more money than usual by sending them an email offering a special discount. 
While Fiverr is a marketplace for small services, the same strategy is applicable to all sorts of ecommerce businesses. All you need to do is to segment your leads based on the average money spent and craft a list of emails for encouraging the leads to spend more in your store.  
I hope that this article gives you some insights on ecommerce email segmentation. Have you started segmenting your email list? Share your thoughts with us by dropping a comment below.