By Mark Woodcock on February 03, 2020 in Marketing
Selling products online can be a tricky business. With masses of competition out there, it's easy for eCommerce websites to get lost in the crowd.
But with studies suggesting that as much as 39% of worldwide eCommerce traffic originates from search engines — with a whopping 35% coming from organic search and the remaining 4% from PPC —website designers need to pay attention to eCommerce SEO, which represents an effective and sometimes misunderstood solution for businesses.
If you've used search engine optimization techniques before, then many of the same principles apply to the world of eCommerce. But if you've no experience of SEO, never fear!
By applying some simple SEO techniques to your product pages, you can help make your offerings visible to that select group of high-converting users who visit a search engine with the aim of making a purchase.
How to conduct keyword research for product page optimization
Keyword research is the foundation of every successful eCommerce SEO strategy. It's key to producing product descriptions that attract traffic and sell. After all, there's no point in writing beautiful product descriptions if they don't correspond with the terms people are searching for!
Before you begin writing, use a tool like Ahrefs to identify popular search terms related to your product, and particularly terms with higher search volume and lower keyword difficulty. In short, you need to get to know your market and identify their needs.
One important consideration is searcher intent. While a general term like 'men's clothing' will attract a significant amount of traffic, not all users are looking to buy — they could be interested in alterations, advice on styling, or even directions to local high street stores. What's more, this kind of term will have a huge amount of competition from the big players of the fashion world, making it more difficult for your site to rank highly on SERPs (as the below example shows).
This is where long-tail keywords enter the equation. By targeting more detailed keywords and including them in your content, such as phrases relating to a particular type of product ('men's blue striped pajamas') or a particular demographic ('blue striped pajamas children'), you'll be able to target less competitive and highly focused searches.
In this situation, an increased chance of conversion offsets an overall reduction in traffic. Consider it from this angle: if someone is searching for 'pajamas', there's a good chance that they're just browsing, or that they may not be interested in the specific type of product you provide. However, if someone is searching for something as detailed as 'men's blue striped pajamas', they're probably much closer to a potential purchase!
So, specificity is important. It's the difference between something like 'wireless headphones', which Ahrefs lists as having a keyword difficulty of 17 and the UK search volume of 77k, and 'sony wireless headphones', which has a difficulty of 11 and the UK search volume of 8.2k. Using brand names and model numbers on product pages will help you attract traffic from people looking for very specific items.
As a rule of thumb, utilizing these longer, more detailed key phrases in your headings and product descriptions will provide greater opportunities for SMEs, ensuring your products are visible in organic search results. Just be sure to use keywords naturally and avoid keyword-stuffing, which is the practice of inserting keywords without considering how it affects readability. Google is better than ever at detecting attempts to game the system and will penalize pages that don't consider user experience.
Using keywords on category pages
This strategy doesn't just work for product pages. Try adding original, keyword-focused descriptions to your category pages too, and they should receive a ranking boost in the same way as pages for specific products. Here's an example from ASOS, who use original descriptions for each category and sub-category.
Always produce unique product descriptions
Even if a manufacturer provides a description for a product, conduct some keyword research and write your own. You can bet that a generic manufacturer description has been used by other sellers, which means that all sites using it will be directly competing for clicks.
Using generic descriptions also comes with a chance of being penalized by Google for duplicate content. If creating a unique description isn't possible, consider including a 'no index' meta tag in the page's HTML code. This will prevent it from being included in search results by Google and avoid ranking penalties.
While any description is better than no description, producing something unique will always be looked on favorably by search engines.
Optimize the appearance of product pages in SERPs
While there are several ways to enhance the appearance of your product pages on Google's SERP (that's search engine results page), meta descriptions and schema markup are easy to implement and offer excellent results.

A meta description, which is the short paragraph that appears underneath the URL on Google's SERP, should ideally feature your primary keyword, any long-tail variations, a reference to your USP, and a call to action. Most importantly, though, they should be concise, compelling, and convince readers to click.
Think of it as free advertising space on behalf of Google! While meta descriptions don't directly contribute to rankings, they're still an essential strategy for encouraging conversions.
The second technique when optimizing for SERPs is schema markup, which is a type of code that helps search engines structure results, allowing them to provide additional details about a web page to searchers.
As the example below shows, schema markup can be used to indicate the average rating a product has received across customer reviews, the total number of reviews a product has received in total, the price it currently sells for, and whether it's in stock or not. It gives users more information without them needing to click, which makes it a great way to entice searchers.

Thanks to Google's Structured Data Markup Helper, you don't even need to be a coding master to started using schema markup. It's an easy way to make your page stand out from the crowd!
How to optimize images and videos in product descriptions
When selling products online, the old saying is always true — a picture speaks louder than a thousand words. Without high-quality images or videos that show off an item in action, it'll be close to impossible to complete a sale. Aiming for original photographs (rather than stock images) will emphasize your site's attention to detail and grab a visitor's attention.
When it comes to eCommerce SEO, however, images and videos need to be complemented by keyword-rich metadata — that's file names, alt-text descriptions, and captions. With Google's crawling bots unable to see pictures themselves, optimizing metadata accordingly is another great way to push product pages towards those precious page-one rankings.
Take the following example: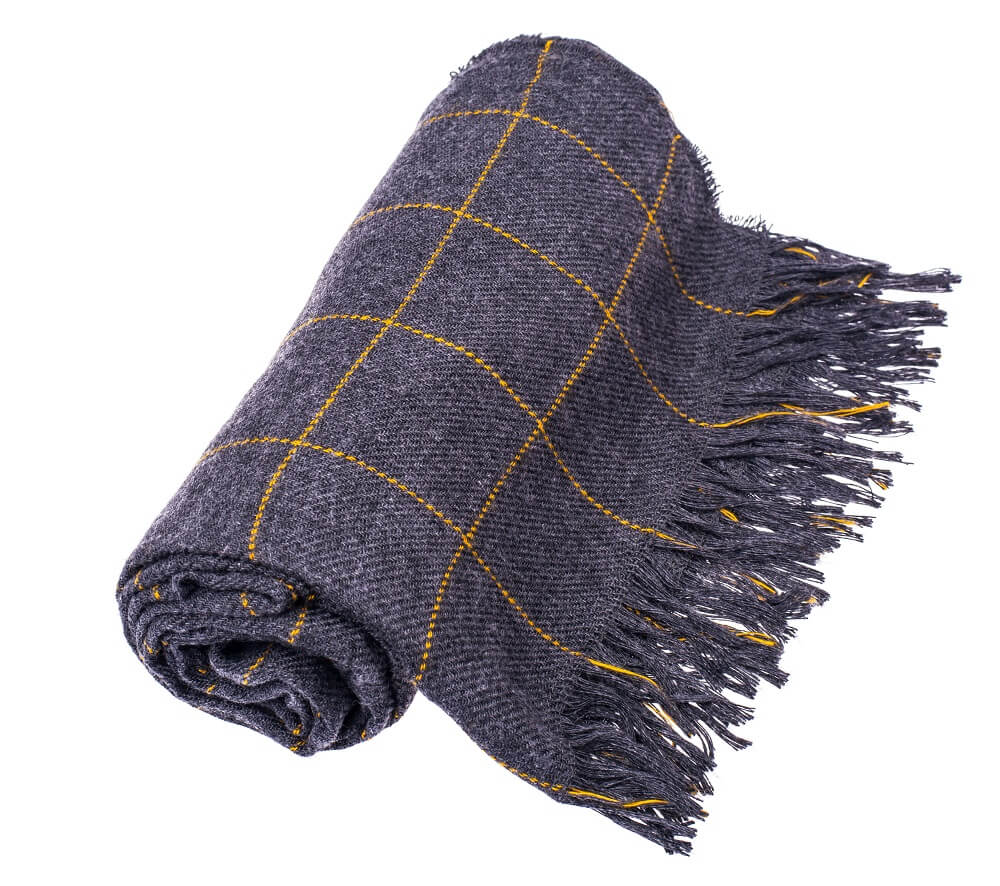 In this case, a file name of 'grey-plaid-scarf' would be better than 'IMG2546'.
Go back to your keyword research and look for opportunities to align image file names and alt-text descriptions or captions with popular search terms. Generic file names, such as random combinations of letters or numbers, should be avoided since these do nothing to attract searchers.
Optimizing metadata is especially important in the age of visual search, where services such as Pinterest Lens, Google Lens, and Bing Visual Search allow users to upload a photo of a product and receive links to similar items available online.
One final tip: for any multimedia-heavy product page, work on reducing loading times by compressing image and video files, since slow loading websites offer a poor user experience and are at risk of ranking penalties from Google.
Use product reviews to promote user-developed content
As well as helping to build trust in your business and boost conversions, including reviews on your product pages can provide significant search engine optimization benefits.
Using reviews will guarantee that your product pages are populated with unique content; they're also a way to ensure pages receive regular updates organically, which is another important factor for SEO rankings.
You may need to incentivize users to provide reviews. Tactics such as ensuring anyone who writes a review is automatically entered into a competition or offering a discount to users who complete 3 reviews are useful places to start.
But with estimates suggesting that product page visitors who engage with reviews convert at a 58% higher rate than those who won't, the benefits of optimizing your product page with reviews are clear.
Optimize URL slugs
As with any kind of website, untidy URLs can hinder your eCommerce SEO. Keep them search-friendly by offering a clear hierarchy and a logical structure, while also incorporating those high-volume keywords that are used commonly by searchers. This will ensure that Google's bots (as well as search engine users) understand a page's relevance and make pages more likely to rank well in search results.
Here's an example of an optimized URL slug that clearly indicates a product's type, its category, its name, and its unique features:
yourstorenamehere.co.uk/women/scarves/grey-wooly-scarf
Nowadays, users of the web are savvy. They know exactly what kind of URL to expect when they're browsing different product pages in a list of results, and have a keen eye for what is most relevant. Consider a URL such as:
yourstorenamehere.co.uk/women/scarves/warmest-scarf-for-winter
While this contains the kind of keywords you'd expect to rank for, on first glance it might resemble the URL for an informative blog post on different types of scarves rather than a product page. This might make shoppers unsure whether the page is offering what they need, and result in you missing out on precious clicks.
Keep things clear, simple, and search-friendly and you'll soon see your traffic rise.
Master eCommerce SEO by Optimising Product Pages
If you're a web designer who runs an eCommerce site that isn't yet tapping into the benefits of SEO, then now's the time to revolutionize your approach.
Within a crowded marketplace, optimizing product pages through search engine optimization allows businesses to punch above their weight and outmaneuver online retailing giants.
With a little trial and error and a dash of technical know-how, it's an effective way to attract high-converting searchers who are ready to become customers.