By Dena Goldberg on May 06, 2022 in Marketing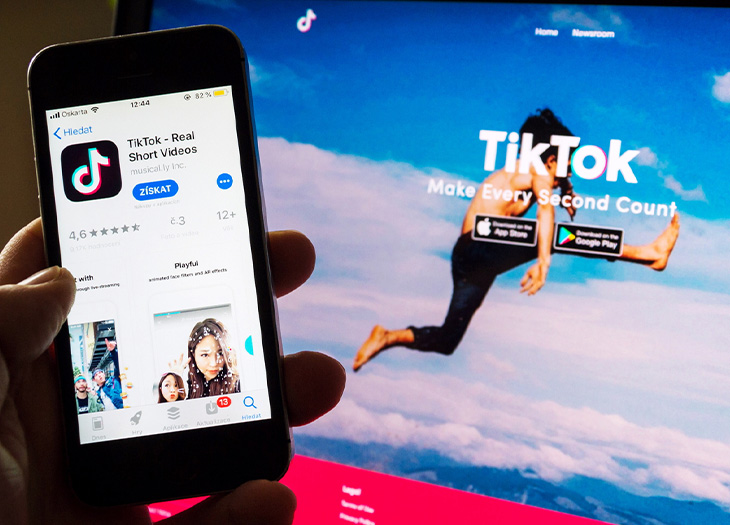 Are you looking to sell products through TikTok? Maybe you're interested in finding a new way to make your brand go viral? Let's talk about TikTok and why you should make it your main focus to grow brand awareness. 
Social media is always evolving. From the growth of social commerce to the sensational boom of TikTok content taking center stage in the social media world. With the recent shift, we find ourselves asking how can I use TikTok for my business? 
In 2017, TikTok only had an annual user base of 65 million users. Fast forward to 2022, and we find ourselves with over a billion monthly active users. It wasn't clear at first how brands would use TikTok for their business. Initially, the main content revolved around young people dancing and lip-syncing in short videos.
That quickly changed.
Now we're seeing TikTok experiment with longer video options. But why did it grow so fast? TikTok brings videos to its users through the For You page. The TikTok software learns from every tap, pause, and swipe you make. The more you interact with it, the more it learns about what you want to watch. 
The ability to bring the right content to the right audience is a powerful tool for any brand or business to work with.
In this article, we'll be talking about tools and resources for you to use in your TikTok Marketing Strategy. This will help you effectively gain brand awareness so you can bring more customers to your online store and grow your business. We'll talk about how to find video ideas, set up social links, collaborate with influencers, start advertising, and find resources to help you succeed. 
Now, let's dive into developing a strategy for TikTok.
Developing your TIKTOK Marketing Strategy
1. Choose a Type of Content
The first step is to choose the type of content you want to create. There
The first thing to do is figure out what type of videos you want to create. Think about what you will show and talk about.
The best way to figure that out is to study the content other people and businesses make. You can take inspiration from any brand on TikTok but it helps to learn from your close competitors.
Before you start looking for inspiration on the "For You" page, let's check out TikTok's "Business Creator Hub".
It will be a great place to start exploring TikTok videos from brands.
Make sure your account is set to your business profile mode.
Once you're ready, click on the Menu tab in the top right corner.

At the bottom of your app window, you'll see these options here.

Click on "Business Suite".

Then click "Business Creative Hub".

On this page, you'll see a few different sections.

Let's check out "Trending: Business".
Here you'll see examples of trending videos other brands are posting.
Let's take a look together.
Once you find a video that you find inspirational for the content you want to make, you can save it to your favorites so you never lose it.
Click the share arrow here.

On the lower section click "add to favorites".
An option will briefly show up to manage your favorites but you can always access them through your profile with the bookmark button here. You'll be able to manage and rewatch your saved favorites.
When creating content, find ideas that work for other brands. Pay attention to the number of views, likes, and comments their video has.
It's important that you build on top of the trend rather than directly copying it. Give your take on a trend by adding a unique twist to it.
What to do if you're just starting out
The most important thing that I think someone should know when they're starting on TikTok for the very first time is that TikTok is a place to get scrappy. It's a place to get creative. The reason for that is because a non-polished video that maybe took you 10 or 15 minutes to produce sometimes does way better and outperforms a video that might have taken you two to three weeks and you might have hired some video production company to create for you. 
So don't be afraid to be experimental. Create content until you feel like you've found a style that resonates with your target audience.  
Is there a formula to creating a viral video? 
There's no exact formula to creating a viral video. However, there are a few things to consider if you want your video to go viral. 
The first thing is simplicity. Simple is usually better than complex when it comes to viral videos.
The second thing is to be relatable. Viral videos tend to appeal to many people on different levels, so try to make your videos relatable. 
The next thing is reactive. Viral videos tend to evoke some sort of feeling or reaction in the viewer. So make them laugh. Make them feel something. Make your videos reactive. 
Next up let's talk about setting up links for your call to action.
2. Setting up social links for CTA's
The main goal you want to focus on for your TikTok account is to keep people watching your videos.
The idea is that the longer you can keep users engaged, the more likely you'll have the TikTok algorithm working for you, which brings you new potential customers. 
When it comes to selling on TikTok, allow your audience to enjoy your content first. Then their curiosity to learn more about your brand will encourage them to check out your website.
It's important not to hard-sell products to your audience but instead focus on a subtle approach.
Here they can come across that cool shirt you were wearing in your video. But how do we get your audience to your website without hard selling them? The best and most common way to get customers to your shop is by using a social link page.
You can add the link to your profile here.
You can customize the page to have all of your other social media accounts and your online store.
To add a link, click on the "edit profile" button and find the "website" section.

Type in your social link page or website link.

Once you click save, go back to your profile to check it out.
If you use a social media page like beacons.ai you can track analytics and gauge how effective your call-to-action (CTA) is.
Here's an example of how a Beacons social link page looks: @insta.noodls
Up next, let's talk about how you can collaborate with influencers.
3. Creator Marketplace for brands
What is the creator marketplace? TikTok has created a space that allows a business or brand to connect with large influencers to collaborate on creating content at their set rates.
To put it simply, you can find creators with lots of followers and pay them to make ad videos for your brand. You can agree on the content they will make and the compensation.
The creator marketplace is not just a place for any random TikToker. For a creator to join, they have to be invited or apply. These are creators that typically have over 100k followers, high view counts, and high engagement on their accounts.
As a brand, you can sign up for an account or use your TikTok ad manager account to sign in on this website here https://creatormarketplace.tiktok.com.
Keep in mind that you'll have to verify your legal business and tax information before you can start working with creators.
You'll see a section at the top of your account to do it here and you'll be prompted to set it up if you try to interact with any creators.
Once you get verified, you'll be able to search for creators and filter by country, amount of followers, average views, and engagement rate.
Next, let's talk about TikTok ads.
4. Ad Manager and Creative Center
Like many other social media platforms, TikTok offers advertising. You can sign up for an ads manager account here. https://ads.tiktok.com/
You can create ad campaigns and use videos you make yourself or the ones you order from an influencer through the creator marketplace.
Aside from creating ad campaigns, you can access the creative center.
Under Assets in the top menu, click "creatives".

Then, under shortcuts click, "Creative Center".
The Creative Center is a great place to get new ideas with an organized look at trends, top-performing ads, and Insights.
Let's see how we can find TikTok videos related to our niche.
Under the Inspiration tab, you'll have access to Trend Discovery, Top ads, and Showcases.

Let's check out trend discovery.

You can find trends by songs, hashtags, and TikTok videos.

Under the hashtag section, you can filter by industry type to find related hashtags.

You can hover your mouse over the graph and click "see details" to see how often that hashtag is used.
Once you find a hashtag that works with your brand and content, you can click "See videos" here to analyze how other brands put their content together.
Find videos that you see working for your brand.

Read the comments for the videos with high engagement rates.

Take notes on what they show, what they talk about, and how it's presented in the video.
TikTok loves a good story.
Share how your brand started and how it's going so far. Are you finding success or facing challenges? No matter how you're doing, people love transparency and will be more supportive if you share authentic stories.
Top Ads
The Top Ads section is great to plan and create effective ad videos. Here you can watch ads that were created and used in a campaign by other brands.
When you click on an ad video, you can see specific metrics and even see what part of the video leads to the most engagement.
Creative Insights and Stats
Another section for you to take a look at is the insights tab from your top menu.
The creative insights section shares statistics on posting tips so you can follow these as guidelines to help increase impressions and conversions.
There's a section for ecommerce and you can even sign up to receive updates when they release new statistics.
Tools
With the creative center, you can create and edit videos from scratch or from pre-made templates.
Under Tools in the top menu, you can access the Video Editor to edit TikTok videos from your computer.
There are also video templates for ads that you can customize with your own product images.
Audio Library 
The last thing for you to check out is the Audio library. It offers sounds that are cleared for commercial use that you can use on your TikTok videos and ads.
You can filter by specific theme, genre, mood, and length to help you find the perfect sound for your content.
Go Get Started
I hope you found this article helpful. Let us know in the comments if you decide to start making TikTok videos. And if you're already using TikTok, share any tips you might have in the comments section.