By Dana Kim on May 15, 2017 in Marketing
From a simple "status updating" social media platform, Facebook has evolved and has become more complex, more multifunctional, that even businesses are taking advantage of its numerous features to augment their business' marketing and other goals. Social media, especially Facebook, has become a way for them to identify, target, and connect with potential customers and other personalities that may help their business flourish.
Social media is also a highly used platform for online shop owners looking to expand their reach with existing and potential customers. To attest to how effective it is in terms of potential audience reach, several statistics have shown how massive Facebook's user count is with regards to several factors such as monthly activeness, daily activeness, etc.
Facebook Ads have become a staple among businesses looking to use Facebook for their marketing efforts. This feature allows them to drive posts tailored to a specific action – from engagement, sales, brand awareness, and others. It is a highly vital method especially when businesses are trying to get their names known within their niche.
However, there are a few other strategies that a lot of business – especially online shop – owners tend to miss or not be informed about when it comes to the true capacity of Facebook Ads for their business. Here are four of the most powerful strategies that you can harness in order to make the most of your online store's Facebook ads:
Use Facebook Pixel
Image from Shopify
Facebook Pixel, as defined by Shopify's guide, is "a snippet of code you place on your store that allows you to track and target visitors to your shop's website. It allows you to create different audiences based on specific actions of your site's visitors." In short, it collects the activity data of your customers and allows you to use them depending on what sort of data you need for your ads.
Aaron Zakowski recommends installing the Pixel long before running your first campaign. He points out that, this way, "you'll give Facebook time to learn the types of people who are converting into customers on your site even when they come from other marketing channels. If Facebook hasn't tracked any conversion on your site yet, they're going to have trouble optimizing your campaign for conversions."
Facebook Pixel is useful in a specific way, which will be explained in the next tip.
Target specific audience based on their visit activity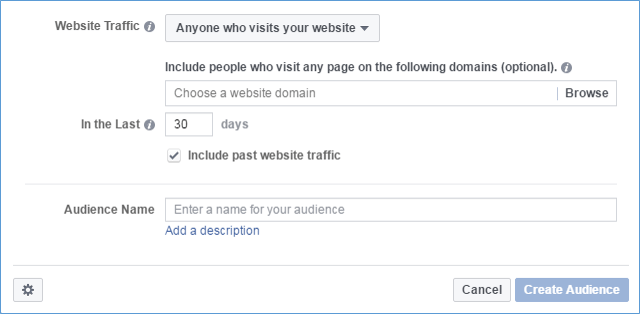 Image from EasyStore
Facebook Ads allow you to tailor your ads based on the activity of users on your website. Facebook gathers this information with Facebook Pixel (which, if you've followed the previous tip, should be installed in your online store) and creates a set of audiences depending on what category you set it to.
They can range from existing customers who have (1) interacted with your business recently, or (2) those that haven't been in your website again for a while; or an audience who have not yet visited your website but might be interested in doing so based on their similarities to your visitors' profiling.
Here's how it works: When you install Facebook Pixel into your online store, it captures who has visited your website before, correlating their information to that of their existing Facebook account. This information is integrated to the Ads Manager when you select any option in "Website Traffic" that sets the target to anyone who has visited your website or hasn't visited in a while.
It also uses the common denominators between your existing customers in order to make a "lookalike audience" should you choose to have an audience that has never visited your customers before but might be interested in it based on their Interests and other deciding factors.
Set a highly-specific audience profile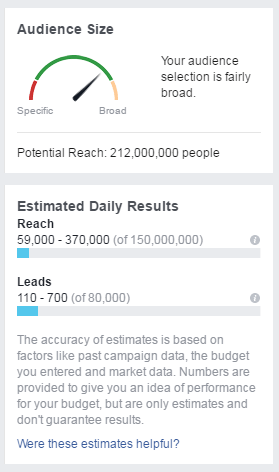 Two types of targeting exist in Facebook Ads when it comes to categories or "Interests": Broad Category Targeting and Precise Interest Targeting. Facebook users are targeted based on the information they have on their profile: their "listed likes and Interests, the Pages they like, apps they use, and other profile (timeline) content they've provided" as described by Facebook.
While many newbie marketers prefer to have their reach as broad as possible in hopes of covering more ground, this is only making themselves spread too thinly and recover very little ROI in return (on top of the higher cost of doing so). You'd want to make your audience profiling as precise at it can be, as it not only helps you target the right crowd but gives you a better ROI rate and lower costs for the ad set.
The key here is focusing on specific interests. This will need effort as you'll need to research everything that you can about your targets, such as what magazines and blogs they read, who they follow on Twitter, and what products are they most likely to be interested with.
Let's put this into a perspective. Say that you're an online clothing store that's selling designs based on pop punk bands for millennials as your primary market. Instead of only considering the interests "pop punk", "millennials", "clothes", "online shopping", "fashion", and "shirts", you'll want to take it a step further. Enumerate all the bands that you offer designs for (i.e. "Paramore", "Green Day", "blink-182", "Fall Out Boy", "Mayday Parade", etc.), prominent people that are parts of these bands (i.e. "Hayley Williams", "Derek Sanders", "Pete Wentz", etc.), nearing concerts and/or events where they'll perform (i.e. Mayday Parade's "A Lesson in Romantics 10th Anniversary Tour"), or even names of their albums (i.e. "Brand New Eyes", "Riot!", "All We Know Is Falling", etc.). These help you narrow down people who are expressly interested in the kind of Interests that your products are trying to connect with.
Kissmetrics also gives an advanced tip: "Use Facebook Connect as a sign-up option on your site. When users connect via Facebook, you'll be able to analyze their interests. Index these interests against the number of fans of their respective Facebook Pages. You'll be left with your high-affinity interests. Using this method, we created a target group that has been our best performer (out of hundreds of test groups) for nearly a year."
Create and run retargeting campaigns
72% of online shoppers (on average) abandon their carts without completing their purchases. And without retargeting, only 8% come back to finish their purchases. Now, most online businesses use email and newsletters to alert of their customers about their unfinished purchases, but this may be counterproductive for some as there is no explicit way of knowing if the customer has seen the email immediately. However, Facebook also allows you to retarget customers in order to bring them back.
To see why retargeting matters for your business, Wishpond further states that 70% if web visitors who are retargeted with display ads are more likely to convert on your website. The average site can bring back 26% of abandoners to complete a purchase when retargeted, and the average CTR of retargeted ads is 10x higher than standard display ads.
The Power Editor can allow you to run retargeting campaigns and have it shown to your visitors with general offers, coupons, single and multi-product ads, and more. It's like migrating your standard retargeting emails onto Facebook Ads, which has a higher and earlier chance of being seen by its intended targets. With this, you have a more powerful retargeting campaign as well.
---
Facebook has evolved over recent years and has become one of the most powerful tools for marketers and businesses as well. Knowing how to utilize it to the best of its abilities will let your online store enjoy a jumpstart on more conversions and sales, thus leading to higher success when done right.