By Kashyap Trivedi on November 29, 2018 in Ecommerce Tips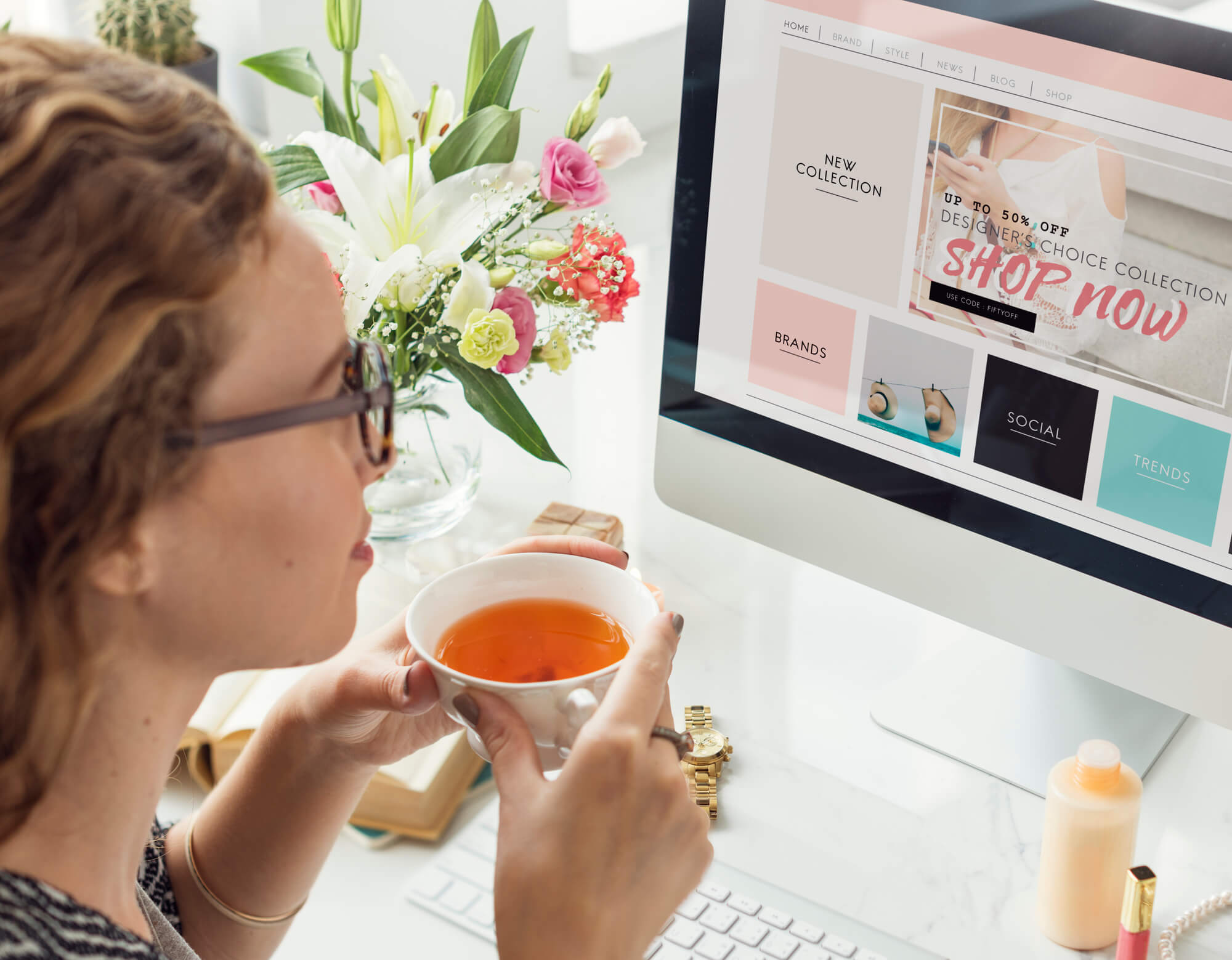 It's not a surprise that Google is becoming more content-centric. We know that the chances of ranking top in Google are higher if your content is in-depth and solves searcher's query.
In August 2018, Google confirmed an algorithm update on its Twitter account: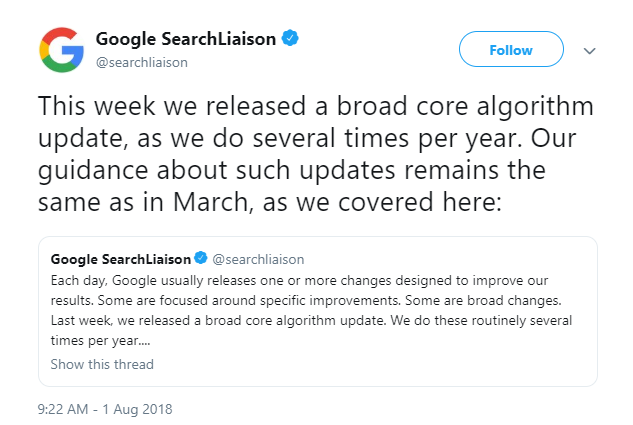 Google clearly states that good content is the only fix for the pages that are ranking low:
The whole game of ranking has evolved to a new level, and sites with great content are more likely to win. An eCommerce brand also needs quality content on its products
In fact, there are some special tips for eCommerce stores to achieve good rankings with E-A-T ratings.
What is Google E-A-T Rating?
In Google Quality Rater's Guidelines, three factors are emphasized:
Expertise

Authority

Trustworthiness
Hence the E-A-T!
According to Google, these three factors are used by Google Authorities to assign quality scores to search results. Now, the E-A-T may not directly impact your search rankings, but we also know Google results are becoming more relevant to searchers.
So basically, Google wants what people search for.
Let's understand each factor and figure out how an eCommerce store can achieve a significant level of E-A-T.
Expertise, the 'E' of the E-A-T
The expertise shows your overall reputation in the niche. Clearly, expertise is not something you can achieve overnight. The expertise here is not only limited to online marketing but how people see your brand in general.
For example, Amazon is a giant name in eCommerce, not merely because it has a great online marketing strategy, but people have understood the value of their services. Amazon is a leader in eCommerce, and we can safely say that it sets the trend in whatever it does.
Buyers consider Amazon as an expert when it comes to shopping online and that's going to lift up their E-A-T. But for an infant eCommerce store, there's a lot to do when it comes to becoming an industry leader. Here are some logical ways to do that:
Take active participation in content contribution, and not just for the link building activities. Share your personal brand experiences with the audience. Share the hurdles and roadblocks of your journey and how you achieved success.

Take participation in various eCommerce events and represent your products. Also, share how you operate and what makes your eCommerce store different and exciting than your competitors. Such events can contribute massively to your brand building.

Connect to people through various social media channels and grow your own community. In this article by Beeketing, there's an inspiring story of The Stray Whiskers - an online store for grooming products. The company had started after building a vast community on YoutTube & Facebook.

Not to forget a good backlink strategy. Spreading your quality content on most reputed blogs can give you boost on search engines, and that's one of the best steps in online marketing to spread your reach.
Content is a great way to get the "Expert" tag on your brand. For this, your content needs to be creative, out of the box, futuristic, and most importantly, data-driven. A data-driven content shows the immense research on a particular subject, and that can give an advantage over competitor content.
For example, there are tons of blogs for learning SEO but when it comes to learning new things, we land on to Moz or Search Engine Journal. Because they have superb content with data & analysis.
Authority, the 'A' of the E-A-T
We as a human consider the authority of a product on a subconscious level. We even check the authority of the reference who referred the product to us. For Google, it simply means how it sees your page in comparison to your competitors and how many recommendations does your page has. Authority in SEO has been an essential factor for a long time now. That's why every good SEO tool has features like Domain Authority, Page Authority, or Trust Factor.
Google would love to give you the magical place in search results because it wants the audience to see the results from most trusted sources. That's why authority matters a lot! Google also see the structure of your link building. Means, how many backlinks are pointing to your page and what is the authority of those domains.
Authority really impacts when two same quality of articles are competing for one particular keyword. For example, for a query "best eCommerce platforms", an article from Inc. is ranking higher than so many other in-depth articles. Because Google considers Inc. as an authoritative source in general.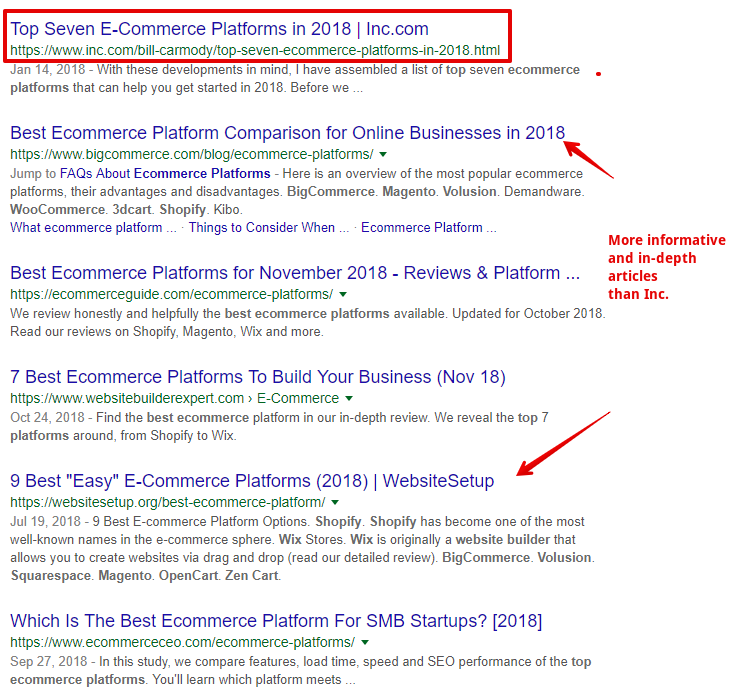 For eCommerce, the authority can be demonstrated for an individual product as well. This scenario can be explained where there is a flagship product in comparison with other products. Tupperware manufactures more than 50 products, but we remember it for its flagship air-tight containers. Because, for air-tight containers, Tupperware is leading in the plasticware products and that offers an edge over other manufacturers.
Authority can also work for small businesses that are competing with sharks. Big brands produce multiple products, on the other hand, small businesses are focused on one or two products at a time. For them, earning the state of authority will purely work as their entire focus is on one or two products only.
For an eCommerce store, you can follow below strategies to earn high authority:
Contribute high-quality content to relevant blogs and publication. Let the large audience know that your brand is an expert for one particular product.

In terms of online marketing, architect a strong link building strategy for that particular product link. Link building is one of the most significant factors for Google ranking after content.

Create informational videos, tutorials or podcasts regarding your niche. Quick example: Skullcandy is a well-known name for HD headphones, but the brand also invests in creating podcasts.

Trust, the 'T' of the E-A-T
Trust is a big word, and it takes more than one iterations to develop the trust factor in your buyers. Talking specifically about eCommerce, you can gain trust by giving an outstanding buying experience even though if you're a newborn brand.
There are some things you should take care of when it comes to trust building:
Make sure to mention all the product details, so buyers can be very sure about what they're about to purchase.

Mention all the attributes of the product on the specific product page like color variants, size selection & size chart, material type, manufacturer details, product warranty, exact price after the discount or coupon, etc.

Delivery is an important factor for both, the customer and the company. Make sure you set the right delivery date & charges and also make sure the customer get to know the right one. It annoys the customer when product delivery is late.

Notify the customer if you don't deliver on a specific location.

Customer reviews have not just become a necessity but they also help in organic results. Allow your customers to share their experiences with the products using various ratings and comments. Remember, a happy review can bring more happy customers!

Mention the exact terms & condition regarding return policies. Not just that, make it visible enough to the customers, so there are no doubts involved.

Display "About The Product" section where you can mention special care or steps one needs to use the products. If necessary, attach a user manual to let your customers know the exact details.

Add an FAQ section to answer the most frequent questions.
These are some points that eventually build trust in your buyers. Do you remember reading all the terms & conditions when you made the first purchase on Amazon? When have you read them all again?
Bottomline
One can definitely argue that E-A-T quality rating is not a primary factor to rank higher on Google. But satisfying all these three factors will eventually lead you to the top. Of course, you can't just ignore the necessary things like content and link building that Google watches very closely. But these are the factors that a human will look for in a brand, not a crawling bot. As we know, Google is becoming more realistic to serve the right results, gaining E-A-T can help you a lot in future.