By Bob Kruse on June 02, 2016 in Reviews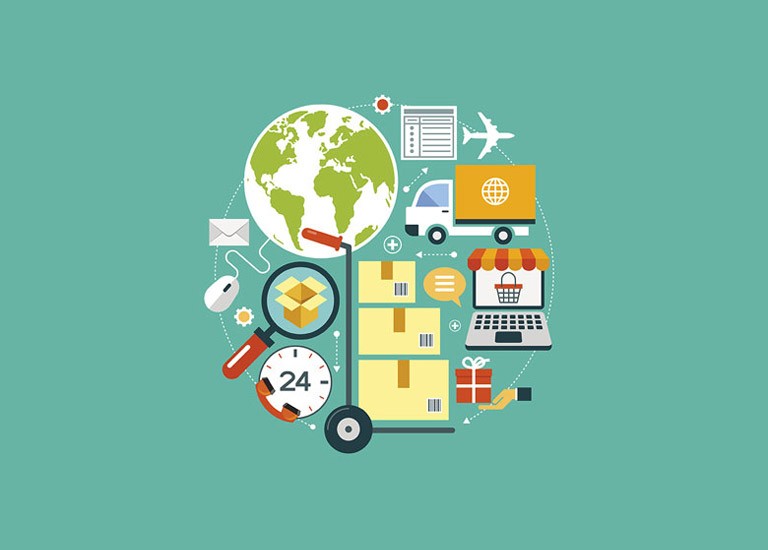 So you own an e-Commerce business. Awesome! You have products, and you have customers willing to buy them. You may get to a point where you outgrow the shipping functionality baked into your ecommerce platform and now you need an ecommerce fulfillment solution.
There are many, many options available for shipping fulfillment. It can be hard to pick between them all. If you already have an e-Commerce platform, you need to find out a few things when evaluating potential shipping fulfillment software solutions:
Is this shipping software compatible with your ecommerce platform?
Will it communicate information such as tracking numbers back to the customer when something ships?
Does is support your shipping methods?
Does it have a good reputation?
Is it more cost effective to use a third party shipping fulfillment service rather than doing it yourself?
These are all important concerns to look at before making your decision.
Choosing Shipping & Fulfillment Software
One of the most tedious parts of eCommerce is shipping fulfillment. It is a complex task with many different options available. Buying equipment and software too early can cause a business to tank. Upgrading beyond what a business needs chews up resources. Holding off too long can bottleneck performance and lose customers. It is important to research exactly what your business needs.
The Basic Shipping Software Features To Look For
Shipping software solutions can help to automate the overall shipping and fulfilment process for your eCommerce business. They can interface with your shipping fulfillment hardware (label printers, scales, etc), save time, and save you money.
The features of shipping fulfillment software are invaluable to any business. These solutions make shipping quicker, easier, and often less expensive. Why waste time and energy managing these tasks when a program can do it for you?
Import Orders From Your eCommerce Website
A key feature for any shipping software is importing orders from your eCommerce website. Different eCommerce platforms supply orders in different formats. So the software you use must be able to automatically pull in orders from the platform you use. For example if you sell on Shopify, then your software needs to be natively compatible with Shopify's order system.
Maybe you use more than one website for selling your products or other market places like selling on Amazon. If you sell in multiple places, your eCommerce shipping fulfillment software needs to be able to handle importing orders from multiple places. This ability will help you to streamline your fulfilment process by have all your orders sync to one place.
Ship Using Your Preferred Carrier
Your eCommerce shipping fulfillment software must also be able to work with your preferred shipping carriers. Similar to requiring compatibility with your eCommerce website, some shipping software may only work with certain carriers. So it is vital that your software be compatible with your shipping vendors.
Some shipping fulfillment software may automatically compare carriers! This allows you to optimize shipping rates and save money. Though you could compare on your own, allowing the software to do it saves time and effort on your end.
Generate Shipping Labels and Packing Slips
Most shipping & fulfillment software can generate shipping labels and packing slips. This reduces both work and the possibility for errors. Instead of keying in data manually, the information is pulled straight from the order. Since there is no human in the middle, there is no opportunity to change or lose data. What goes onto the label and packing slip is exactly what the customer typed when ordering.
To reduce shipping errors, shipping software can validate addresses. If there is a problem with the address, the software won't waste time and money to ship the order. The software can alert you to any problems, or directly contact the customer to provide another address.
Automate and Schedule Shipping tasks
Many shipping fulfillment software options help with logistics. They may automate and schedule shipping tasks. This takes the burden of planning off the business. Plus, software is generally more precise and reliable than human effort. These programs rarely make mistakes when properly set up.
Label Printer Integration
There are some pieces of hardware which are necessary or useful for eCommerce fulfillment. One of the most necessary pieces of hardware for shipping is a label printer. Regular home or officer printers can do the job, but they are not ideal. Automating home printers is nearly impossible.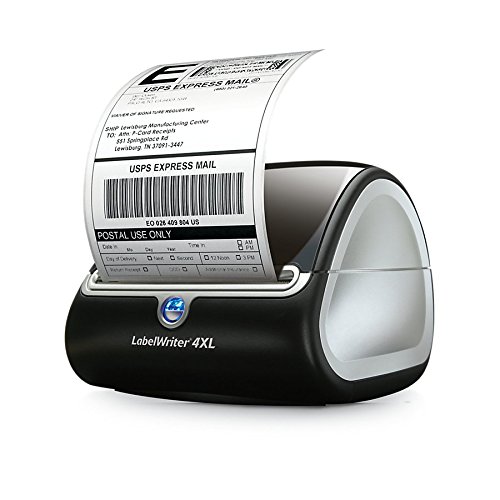 Ref: DYMO LabelWriter 4XL Thermal Label Printer on Amazon
A good label printer can easily integrate with your shipping software. Some label printers can print and apply labels with automation. Some of the most popular label printer brands are Dymo and Zebra.
Shipping Scale Integration
Another vital piece of hardware for self-shipping businesses is a scale for weighing packages. Scales are necessary for calculating shipping costs in most cases. They come in a variety of sizes and have many possible features.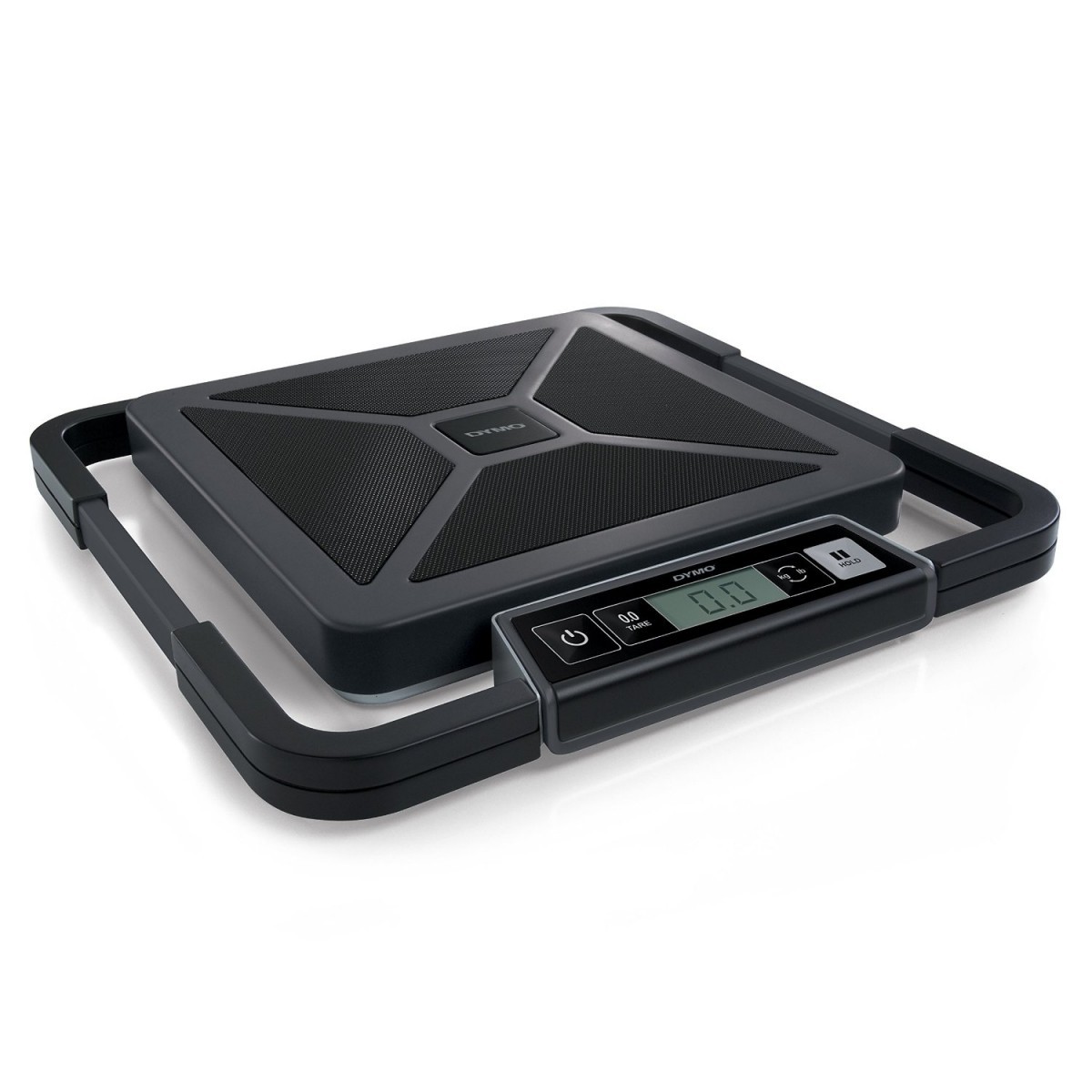 Ref: DYMO Digital Postal Scale / Shipping Scale, 100-pound on Amazon
Small scales may only be able to handle 10 lbs or less. Large scale may be able to handle 100+ lbs. Some scales integrate with shipping fulfillment software to populate weight data. Other scales may send the data straight to a label printer.
Here are the 3 Most Popular Shipping & Fulfilment Software Solutions to Consider.
Of the top 3 shipping software packages, ShipStation, ShipWorks, and ShipLark, let's see how they compare to each other. Then you can decide which one works best for you.
One of the most popular shipping fulfillment options is ShipStation. It's a web-based tool that you can access with a username and password.
There are many benefits to using a web tool because access is quick and easy and there is no software to install on your computer. Everything is handled on the web site. Any computer with a web browser can access the site. This means that you can access it from anywhere without using remote desktop to reach a work computer.
ShipStation is great for users without much tech experience. You can customize the interface exactly how you want it.
Pricing
ShipStation offers a 30 day free trial. After the trial period, ShipStation has 5 price tiers.
Bronze is $25 per month and has very basic features. Users can make 500 shipments per month. There can be 1 user on a bronze account. Labels and packing slips are ShipStation branded. Customer support is limited to email and community forums.
Silver is $45 per month and has a few improvements over bronze. There can be 2 users on a silver account. Users can make up to 1500 shipments per month.
Gold is $65 per month, and can have 3 users making 3000 shipments.
Platinum is $95 per month, and can have 5 users making 6000 shipments.
Enterprise is the highest tier at $145 per month. These accounts can have 10 users, and there is no shipment limit.
All tiers have access to unlimited stores on all selling channels. Tiers above bronze can have customized packing slips and branded labels, as well as live chat support.
eCommerce Platform Support
ShipStation integrates well with more than 30 popular eCommerce platforms like Shopify, BigCartel, and BigCommerce. Giants such as Amazon, eBay, Etsy, and Newegg are supported as well. There is also an API available to allow any other eCommerce platforms to plug into it.
For Shopify shipping, ShipStation has an extra special integration available to streamline Shopify's shipping and order fulfillment. This makes ShipStation the best counterpart for extending Shopify's shipping and fulfilment capabilities.
Shipping Carrier Support
ShipStation works with over 25 major shipping carriers worldwide. Some of the most common include USPS, UPS, FedEx, DHL, and Fulfillment by Amazon. 
Downsides
With so many tools and settings, ShipStation has a large learning curve. You will need to tinker with the software for a while before you become proficient.
There are reports of high volume customers having issues with ShipStation. Lower tier plans have strict user limits. Companies must scale up if they want to have more users on ShipStation.
Is it for You?
ShipStation is for the business owner who wants to branch out. It has more options most other shipping software. The variety of pricing tiers allow users to experiment with several options. e-Commerce sites with a little experience are the best fit.
With the large number of supported services, ShipStation is great for businesses who use more obscure providers. If it isn't supported elsewhere, ShipStation probably still works with it. If a service isn't even on ShipStation, an API package is available if you have a developer who can do custom coding for you.
If you use Shopify, then its definitely for you.
Another popular shipping fulfillment solution is ShipWorks. ShipWorks is a Windows desktop application. Customers are provided an installer to run on any of their computers. This installer handles everything to get the software up and running. ShipWorks can be installed on as many computers as you want.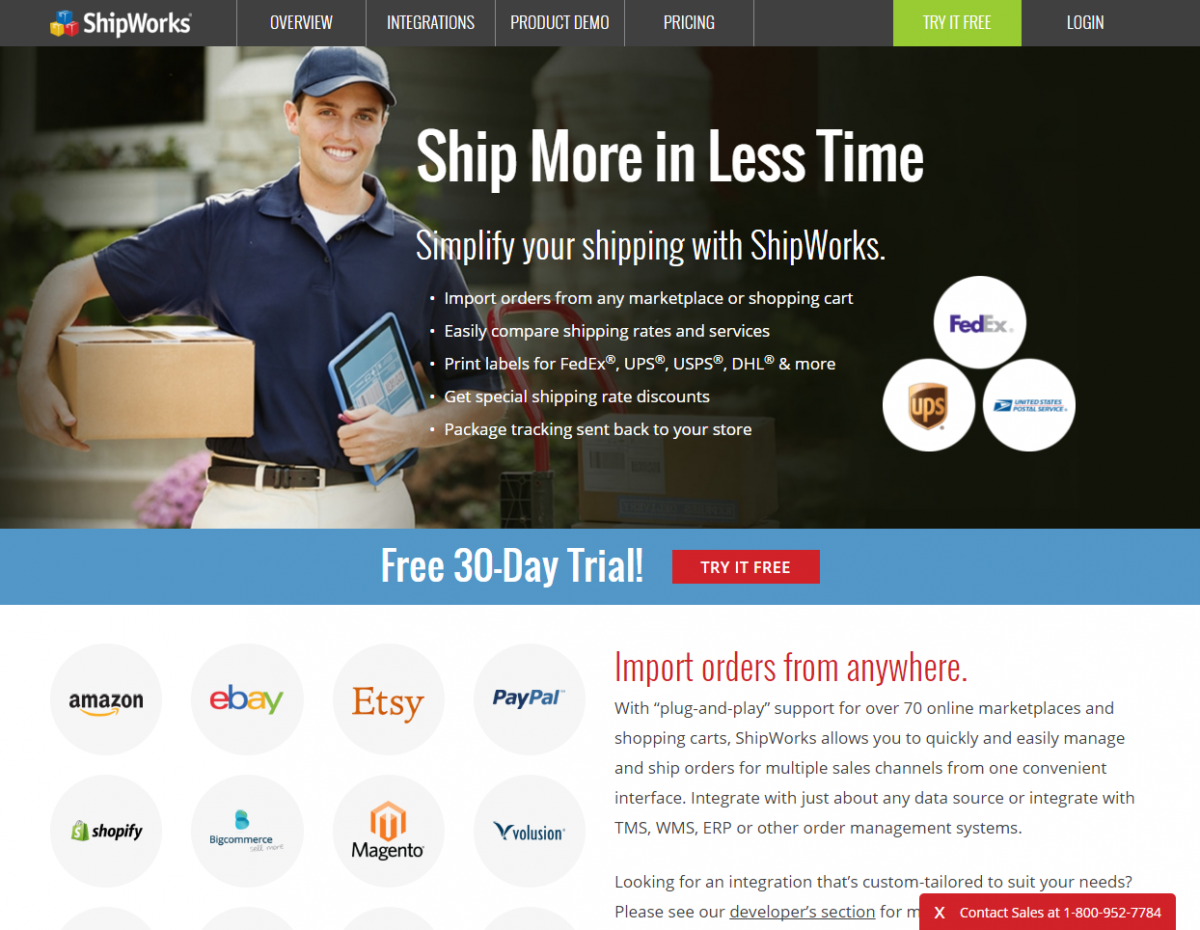 Pricing
ShipWorks pricing depends entirely on shipments per month. Customers are given a 30 day free trial at first. Users are charged $14.95 per month for anything less than 100 shipments.
Companies who make between 100 and 1000 shipments pay $29.95 per month. Any more than 1000 shipments per month costs $49.95.
There is no headache of deciding which tier works best for your company. ShipWorks calculates these values automatically. This fee must be paid individually for any one ShipWorks license. A new license is needed for any new online store or account. One license can be used on as many computers as necessary.
All tiers have access to an unlimited number of users and workstations. There is no limit on warehouse locations for any customers. All ShipWorks customers get full email, phone, and online customer support. Again, tiers are only based on number of shipments per month.
Businesses can pay a one-time $50 fee to have a ShipWorks employee help them setup their system. ShipWorks also offers general tech support for $50 per half hour. This tech support is for any problems not directly associated with ShipWorks software.
eCommerce Platform Support
ShipWorks is compatible with 30+ popular eCommerce shopping carts like Volusion, Prestashop, and Magento. It can also import from 10 marketplaces, including Amazon, eBay, Etsy, and Newegg.
Shipping Carrier Support
ShipWorks integrates with FedEx, UPS, USPS, DHL, OnTrac, and i-parcel.
Downsides
An obvious downside is that ShipWorks is exclusive to Windows. Mac users will have to go for another eCommerce shipping software. Windows users will have to install the application on every work PC.
ShipWorks supports most major eCommerce shopping carts, but not quite as many as ShipStation. If you already use one of the top names for shipping and marketplaces, you should be fine. Some of the more obscure vendors are excluded, however. If you use an eCommerce system that isn't supported, you may have to switch vendors. If you want to stick with your current system, you may need to go with ShipStation or another shipping software.
Is it for You?
ShipWorks is best for the new business owner. It's user friendly and easy to automate. The pricing is simple and straightforward. Users can jump right in and figure things out as they go along. Plus, the lack of integration is less important for new business owners. Companies can just select eCommerce platforms that are already supported by ShipWorks.
This equal support of all tiers makes ShipWorks ideal for any sized business. Small, medium, or large, all businesses get fair treatment.
Rounding out the top 3 of shipping fulfillment software is ShipLark. This is the most advanced software on our list. ShipLark is a Windows application. Unlike ShipWorks, it requires several external downloads. In addition to the installer, users need Microsoft .NET Framework and Microsoft SQL Server. This installation can be complicated for many users.
Pricing
ShipLark allows 30 days of free trial. After the free trial, ShipLark has 5 tiers based on monthly order downloads.
Paying monthly, the tiers are $10, $30, $50, $70, or $90 per month. Paying yearly, the tiers are $9, $27, $45, $64, or $82 per month.
Subscriptions can be billed annually or monthly. Annual billing gives a slight discount over the monthly rate. On the other hand, annual billing also locks customers into ShipLark at one tier for a full year. If customers expect a change in volume soon, annual payments could cause problems.
All tiers are provided phone, email, and online chat support. A single user account is provided with every tier. No tier can access more than 2 online channels.
There are extra services that customers can purchase as necessary. The Onboarding Package is $499 for a 3 hour setup and training period.
eCommerce Platform Support
ShipLark supports about 30 shopping cart and 4 marketplaces. The supported marketplaces are domestic Amazon, United States and United Kingdom eBay, Etsy, and ChannelAdvisor.
Shipping Carrier Support
ShipLark is limited to 3 shipping carriers. These services are USPS, FedEx, and UPS.
Downsides
Integration with other products is weak. ShipLark has a very specific list of vendors it can work with. Only a few of the biggest carriers and marketplaces are supported. An API isn't available, so no new connections with other eCommerce systems or shipping carriers can't be made.
The complex install is daunting for any casual computer user. Pricing can add up with the extra services available. Cloud computing is a popular selling point, but ShipLark is desktop exclusive. All data is local to the user's computer.
Is it for You?
ShipLark is the best software option for a business that knows what it needs and what it wants. This service is not so user friendly for new business owners. It does not play well with most outside services. If you know what you need, it works great. Only advanced users should go with ShipLark.
Runner-Up Shipping Software Solutions
Beyond the top 3 solutions, there are many others available. Maybe you haven't seen a solution that stands out as perfect. Maybe you want a specific feature that the top 3 reviewed here do not have. There many other shipping software vendors to look at, like…
ShipHero focuses on inventory management and decreased shipping costs.
Shippo provides API for ultimate customization.
EasyShip takes pride in worldwide shipping options.
Specific businesses have specific needs. What we have listed is not supposed to work for everyone, just for most. If you want something not featured here, dig further to see what is on the market.
---
Outsourcing to a 3rd Party Fulfillment Service
When eCommerce shipping & fulfillment is hard to manage (or you don't want to do it yourself), you can outsource your warehousing and fulfillment to a 3rd Party Service. Fulfillment warehouses stock your goods and handle shipping as orders come in.
This has the benefit of often reducing shipping costs for your company. Fulfillment warehouses ship products in bulk which usually gives them cheaper rates from the shipping carriers. Also, their location may lower shipping times to nearby customers. These benefits come at the cost of storage fees from the warehouse. For some businesses, the savings and convenience may outweigh the warehouse fee.
One of the biggest fulfillment warehouse providers is Amazon.com. Many consumers already search Amazon as their first source of online products. Using Amazon gives you access to a wider range of customers.
You can also use Amazon exclusively for fulfillment. Your product does not have to be sold on Amazon's site either. Fulfillment by Amazon, "FBA," allows users to handle their own eCommerce website. FBA specifically deals with housing and shipping products for businesses. This gets rid of the headache of managing several services yourself.
Is Amazon FBA for you?
Whether you manage your own shipping in-house or ship through FBA is a complex decision.
Paying for a third party shipping fulfillment service is convenient. It is usually more expensive than self-shipping, but much easier. The burden of coordination, warehousing, staffing, and shipping is placed on the third party.
If any problems come up, you can rely on someone else to fix them. Third party shipping through companies like Amazon is best for businesses without the expertise to coordinate shipping or without the intention of hiring staff to do it for them. Peace of mind in knowing problems will be kept to a minimum is worth a premium. Amazon FBA Fees for eCommerce Websites
An Amazon FBA Alternative
Another popular 3rd Party Fulfilment option is Fulfillment.com. "FDC" is more of a bare bones fulfillment warehouse. FDC only handles the actual storage and shipment of goods. They do not give the business another store front. This is a better option for companies who prefer selling directly from their own website. Instead of relying on a site like Amazon, they handle all orders in house.
---
The key to e-Commerce success is finding the most appropriate shipping fulfillment solution for your business. Going too big can eat into your profit margins. Enough excess can even cause bankruptcy. Holding back on e-Commerce capabilities can reduce profit. A bottleneck in shipping can limit how much product a business can move.
Hopefully, this article has given you enough information on some of the most popular shipping & fulfillment software solutions available. You know your business better than anyone else. You know how much you ship, what you need, and how much you're willing to pay for software. With all this information, you can pick the best shipping software and tier for your needs.