By Maulik Shah on October 17, 2017 in Learning Curve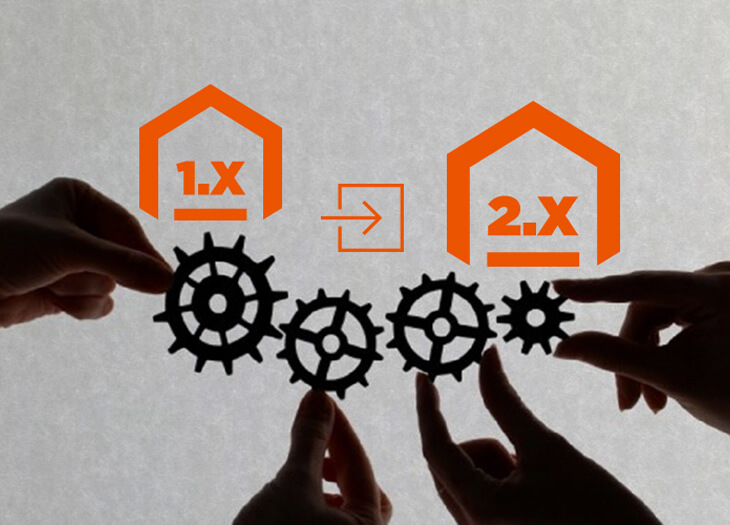 Comfort zones are always a favorite. After all, they make you feel secure from venturing into the realms of unknown. The same scenario can be applied to ecommerce businesses. When Magento 2's release was announced in the year 2015, it had sent ripples across the Magento Community. It received a mixed welcome with some quite happy to make the change and some were skeptical as to whether it would be worth all the efforts.
Builtwith statistics revealed that Magento holds 14% of the market share for ecommerce platforms. After the release of Magento 2, this percentage is likely to rise. If you want to keep up with the latest ecommerce trends, you must migrate to the version 2.0 sooner than later.
Why migrate to Magento 2? You can probably figure out. But how to go about it is the question many are pondering upon. This article will acquaint you with some pointers you need to consider while migrating from Magento 1 to 2.
Magento 2 Migration: Basics to Consider
When you migrate from M1 to M2, you need to take care of four major components:
Data (product and customer)
Theme
Extensions
Custom Code
But before you start migrating, it is imperative to have a migration plan with details mentioning about the course of certain actions and how they will be performed. By doing so, you will be able to undertake the process seamlessly.
According to a flowchart by Magento, this is how you can go about with the Migration:
Extension Compatibility:
As the first step, you need to review the Magento extensions on your Magento 1 store. Decide on the ones that are mandatory to keep your store running when you migrate. You also need to check if the existing extensions are available/compatible with your Magento 2 store.
Two things will happen when you do this. One, you will be able to get rid of unnecessary data from your Magento 1 site. And two, things won't get complicated if you use an old extension with your new Magento 2 store.
Know the Potential of Your Store
After you migrate to your Magento 2 store, you might go for more advanced functionality. So decide if you will and plan things accordingly.
Create a Magento 2 Store and Test It
As a part of this procedure, you need to install Magento 2 store and set it up with a design and topology that is similar to your Magento 1 store.
Start Migrating
Last, but not the least, you can start the task of migration! Apart from order management functions, you can stop all activities on your Magento 1 admin panel. Also, it is advisable to migrate data from a replicated Magento 1 database instance.
Once re-indexing is accomplished, you can test your Magento 2 site and ensure that there are no glitches before you go live.
Update Incremental Data
As the next step, you have to capture data updates like new orders, reviews as well as changes in customer profiles and migrate them to Magento 2 store.
Go Live
While you re-index and change DNS settings, you will experience some minutes of store downtime. Thereafter, your store can go live!
Initially, the process might not run exactly as planned and there might be some issues to solve. If you follow these steps outlined by Magento and take the upcoming 5 points into account, you will be able to make things more streamlined.
Points to Ponder Upon
Take a look at some other considerations you must make while the migration takes place:
Magento 2 Migration Efforts
It is definitely not easy to migrate from M1 to M2. It has a totally different database design and architecture. According to Magento, the Magento 2 migration process is 20% larger than Magento 1 upgrade. The nature of your Migration to M2 is completely dependent on the number of extensions you use on your store, the customizations, and its complexity.
Customer Data and Product Import
Magento provides a tool to help you import the product and customer data easily to M2 ecommerce store. It is known as Magento 2 Data Migration Tool. Map files present in this tool transforms data to your Magento store.
It also checks the consistency between the database structures of Magento 1 & 2, creates logs, tracks the progress of data transfer and conducts verification tests. In a nutshell, it works in 3 ways:
Migrating configuration settings
Migrating main data in the database
Transferring incremental data updates to admin panel and storefront
Magento 2 Data Migration Tool is specifically developed to help ecommerce store owners with the migration.  So you can make the most out of it.
Import Media Files
Media file migration is quite different as compared to Product data migration. You need to manually migrate media data. You can search for a Magento guide that provides information about the process of migrating media files stored in the database and file system.
Extension and theme migration
Magento 1 extensions are usually compatible with Magento 2. Code Migration Toolkit can assist with migrating some custom code and extensions and custom code. However, it might not work with some of them.
You must recreate Magento 1 extension and themes if you want to have an effortlessly working Magento 2 store. If there are any glitches in accessing a new version of extensions, you can get in touch with the developer of the Magento 2 extension.
Performance Considerations
There are times when the migration might not work properly despite all the strategizing. So don't worry if you see any error messages. If you get stuck somewhere, consulting a professional developer would be a wise thing to do.
---
In a nutshell
If you want to follow the innovations happening in the field of ecommerce, it is advisable to switch to Magento 2. So if you plan every step in detail and go according to the plan, there should be lesser issues. In case you have no idea about what Magento is, you can get in touch with a Magento Developer.