By Oksana Mikhalchuk on April 26, 2019 in Marketing
How do you touch the soul strings of the most cold-hearted subscriber and inspire them to become a customer, or at least read till the end?
First of all, be prepared for lots of fails. You will have to perform lots of a/b testing and try may formats. In this article, we will go into detail about how you can achieve the perfect 'warmness' for your letter. It is not about being obnoxious, ill-bred or straight up rude in your letters, and not about being extremely polite either. The following tips are not about raising conversion, rather about bonding with your customers.
Send out personal letters, not landing pages
No matter how far the design improvements go, always keep in mind that you are sending out a letter, not a page nor a long read. Remember as well, that some of your newsletter recipients might be out there reading inbox on mobile, or having pictures in emails disabled.
This newsletter might become a hot mess when it is viewed on a poor connection on mobile.
What to do
Make sure you have the plain text available, for the information in the letter be still accessible and usable, and the links are clickable. In chase of appealing design, most email newsletters from brands start to look the same: big pictures, little to no text, and a huge button, as if it is another landing page, while you are still in someones' inbox.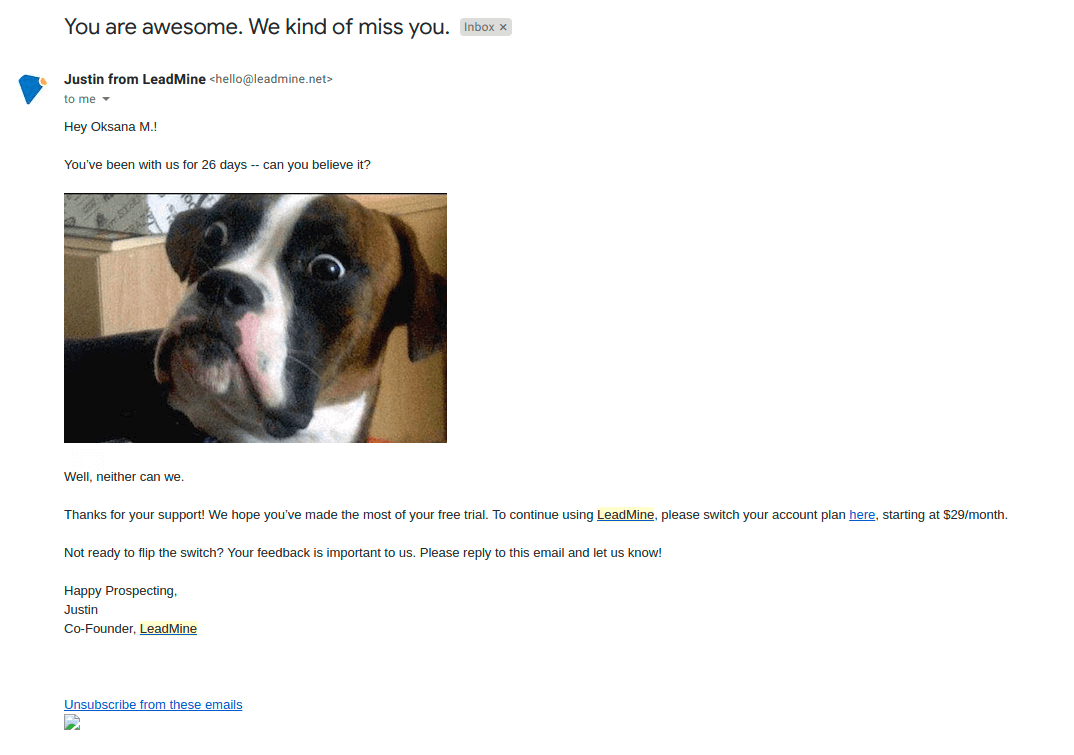 This is an example of a simple and open-hearted email, which is, nonetheless, is from a mass merge. It looks as if the friend messaged you after a while.
Speak to your customers as you would offline
Creating a full-on design template with fonts and pictures for an email may look good, but it draws the personalization further from the customer. Sure, you can call them names if you know them, but there is a moment that can spoil the impression: the wrong tone. If you speak to your customer as to John Carl Doe, you are no more than a polite stranger.
What to do
Call the customers by their first name. It feels different. But, the tone you talk to your readers depends on if you are a small local jewelry brand or a financial corporation. Both of these companies work with people, but on different levels. For a small brand, the customers are Johns and Anns. For corporations, they are in a higher register and calling your customer a full name is taken for granted.
Also, don't forget about the gender if the language you are working in has a distinction. Calling her a 'he' and vice versa is the silliest mistake to become a joke.
Make sure your customers receive letters from a living person
Nothing brings a more impersonal touch than a sender that is a generic email like 'noreply' or 'newsletter'. Newsletter, no matter how massive the dispatch is, feels better if it comes from a person, not a machine.
What to do
Give your customer a living sender that they can reply to or ask questions. Send the newsletter from a personal email, and make sure to provide a profile picture and a brief description, like the sender's position or else. The more times a subscriber sees the same face and name in the letter signature, the more used they get to the person behind them. As a result, the face becomes familiar and gets stuck in the subscriber's memory.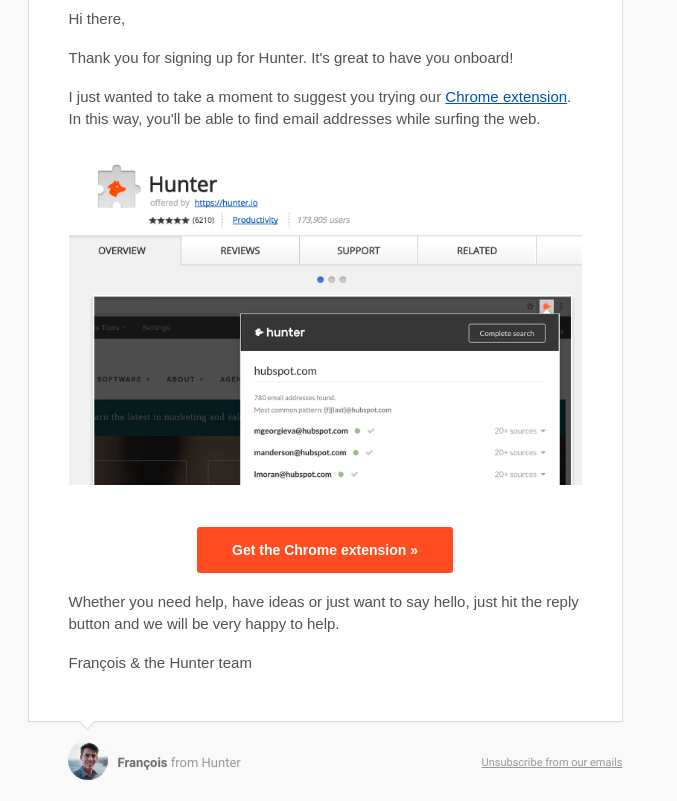 There is a name, a picture and an assurance that you will get a reply if you ask for one.
One more option to bring the reader closer to the sender is to include a paragraph composed by the author. It can be a brief introduction, advice or just a wish of a good day. This way, your readers will remember a person associated with the brand.
This is the level of care the CEO is ready to give to each customer. Such emails are worth a read and a reply.
Trust important news to another author. If an important announcement is about to come, it is useful to switch the author of the email to a higher-ranking employee, for example, a CEO. If the letter is about the company's policy or huge changes are coming, it is reasonable that the message comes from the people in charge.
Dismiss footnotes
Keep the email a letter, not a document or a contract. If you offer a deal, find the words to make it clear from the letter body only. Your offers worth nothing if they only apply in very specific conditions that only a small percent of your customers can use.
At the end of every Sephora promo letter, there is a big piece of unreadable text with conditions. No one has time to figure this out.
What to do
In that case, either make the rules simpler or explain it so anyone can understand and participate. The footnotes may cause customers to feel deceived, and that is not the feeling you want them to have for your brand.
Flixbus is offering a clear deal with visible and understandable conditions in a few lines.
Be humane and own up to your mistakes
A brand won't wait until a customer comes with a complaint, they will admit it and offer possible solutions to solve the issue or make amends for the customer before they get furious.
What to do
Start with clarifying what happened. Explain the reason for the order delay, for misplaced items or a wrong price. The customer might have their own version of what is happening, but you state what you take the blame for.
Tell the customer what they should do if there is anything needed from their side. Should they wait, or answer to this email?
Compensate for their inconvenience. It can be a promo code, a voucher, or a gift card, whatever you are able to provide. Present it without unnecessary arrogance, keep in mind that the email is about you being sorry.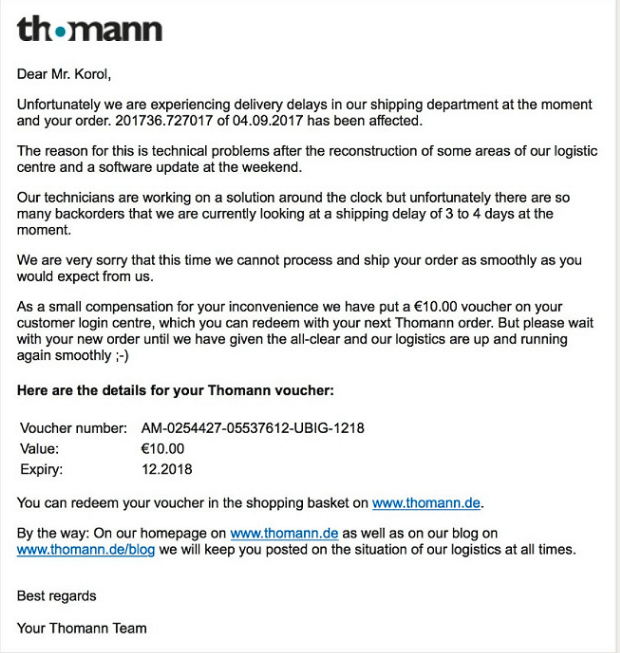 Thomann is sincerely interested in saving its reputation and makes sure no one leaves offended with a very straightforward letter.
Download, not attach
Letters with attached files, unless they are not personal or work-related, usually trigger the spam filter, and end up somewhere your readers will never see them. No one wants to save an unchecked document to their computer even if it is marked as important and must-have.
What to do
Let your customers decide for themselves whether they want to have the content you offer or not. If you offer a whitepaper or another document for download, make sure to provide a synopsis or extracts from the document, and follow it with a clear CTA to downloading the file. You will save your readers from having anxiety about unsafe files.
Magento keeps it classy with neat and comprehensible with every whitepaper they offer.
Don't offer mass content as personal
What states here for the mass content, is product selections and recommendations that are generic and present as the picks just for this subscriber. Insincere mass selections are easy to detect with the naked eye.
This selection has nothing to do with search and the viewed products, its random
What to do
If you do regular product selection, do them neutrally, without implying to the person's taste or choice, but make sure to segregate your customer wisely. Male subscribers shouldn't receive recommendations for breastfeeding, as well as female ones shouldn't be surprised by '5 facts about prostate cancer'.
Bottom line
To make sure your emails are appealing, make mass merge feel personal and look just written. There is no special formula Warm email is different from a cold one is the same that is between politeness and respect.