By Bob Kruse on December 23, 2015 in Reviews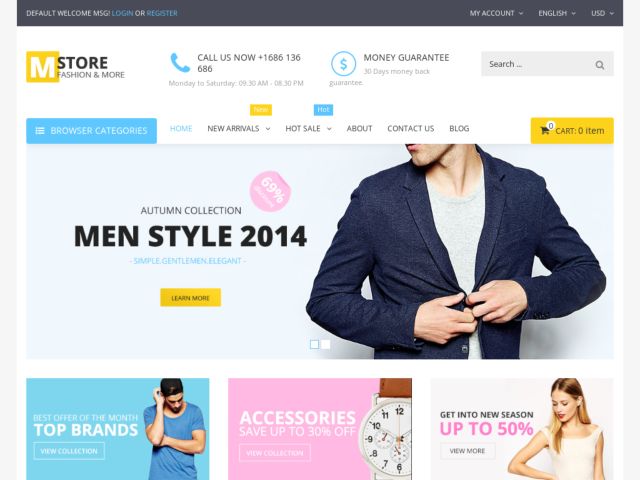 We've all heard that it takes money to make money. Well, here are some ways to get your ecommerce website started for FREE, throwing a curveball to that old adage.
A free ecommerce website has it's limitations, but it's worth the risk if you want to see if your ecommerce idea has potential. If it succeeds, then you can always invest and upgrade your ecommerce site after it's proven itself.
There are many ecommerce platforms and software solutions available to create a completely free ecommerce website.
Top 3 Free Ecommerce Software Solutions
Most free ecommerce software solutions are open source downloadable software packages that you can install on your web host.
You will need to subscribe to a web hosting company that has a package capable of running your selected ecommerce software package – check the requirements of the software before purchasing ecommerce hosting.
You will need a working knowledge of FTP to transfer the ecommerce software onto your host. You will most likely need MySQL knowledge to install the database which stores the majority of data contained in your ecommerce website, however, some packages may do this for you automatically but a minimum you need to supply the database address, username and password which your ecommerce hosting company will supply.
You will also be responsible for setting up your payment gateway for accepting credit cards, tax tables, a shipping solution, and SSL for secure credit card transactions.
On with the list…
---
1. Magento Commerce
Magento is one of the most popular ecommerce software packages available. It started as a free open source solution then launched a paid enterprise solution and eventually was bought out by eBay. Magento's Community Edition is still free and one of the best free ecommerce software solutions available.
Magento is very flexible and robust. It has a huge community, library of add-ons, and selection of free and paid design themes.
Some of the pros and cons of Magento are as below:
 
Pros:
Magento has been built with a reliable and stable structure.
It is an Open source platform.
It is scalable for future growth.
Cons:
Once you get past the basics, it can have steep learning curve for adding new features.
Custom design implementation is complicated
Additional content management functionality like managing regular pages, menus, blogs, basically anything not relate to ecommerce is difficult to implement.
High demands for hosting which can add to the ecommerce hosting costs
---
2. Opencart
Opencart is an amazingly easy and popular ecommerce software. It's easy to install, customize, and launch.
It's not at high powered as Magento, but it's simple, lightweight, and just works, so this may be all you need.
Pros:
Free. Just download and use!
Open source.
Low hosting requirements.
Free and Premium templates are also available.
Cons:
Not as mature as Magento so some functionality may require custom programming
You can grow out of Opencart once you get bigger
Lacks decent content management outside of standard ecommerce functionality
Community support isn't great
---
3. Drupal Commerce
Perhaps the most flexible free ecommerce solution ever created, Drupal Commerce is the newest software package to enter the marketplace.
Built on top of the popular Drupal Content management system, Drupal Commerce offers unbelievable power to create any ecommerce scenario possible. To put it's power in perspective, you could essentially build Magento and Opencart with Drupal & Drupal Commerce. Whoa!
The downside is that it has an extremely steep learning curve, mounted on top of Drupal's steep learning curve, it might take a while to get up and running – but once you wrap your mind around its concepts and harness it power, it is by far one of the best ecommerce solutions available.
Also, important to mention is there is a project called Commerce Kickstart, which installs a pre-configured Drupal Commerce shopping cart website and is virtually ready to go out of the box.
Pros:
Ultimate flexibility
Great content management system
Great community of developers
Cons:
Difficult to learn and get up and running
Not a lot of design themes available
It's not a polished solution, but more of a toolkit
Other major notable free ecommerce software packages include:
---
3 Free Hosted Ecommerce Platforms
What differentiates these ecommerce platforms from the ecommerce software solutions above is the fact that they take care of your ecommerce hosting and software implementation, so there is virtually nothing for you to install. Just signup, add your products, and go.
Most free hosted ecommerce platform are limited in some form because they ultimately want you to signup for a paid account, however, the free accounts are great for testing the waters.
They may limit your support, ability to have a custom root domain name, and limit how many products or customer you can have.
TicTail - https://tictail.com/
Weebly - http://www.weebly.com/
KingShop- http://www.kingeshop.com/
Some other ones you can try...
So which one is right for you? Well at the end of the day are all free, so try their demos, install them, try to bend, break, and test them. See which one fits your business the best. See which once feels like the best fit for you and your products.