By Michelle Deery on March 12, 2018 in Ecommerce Tips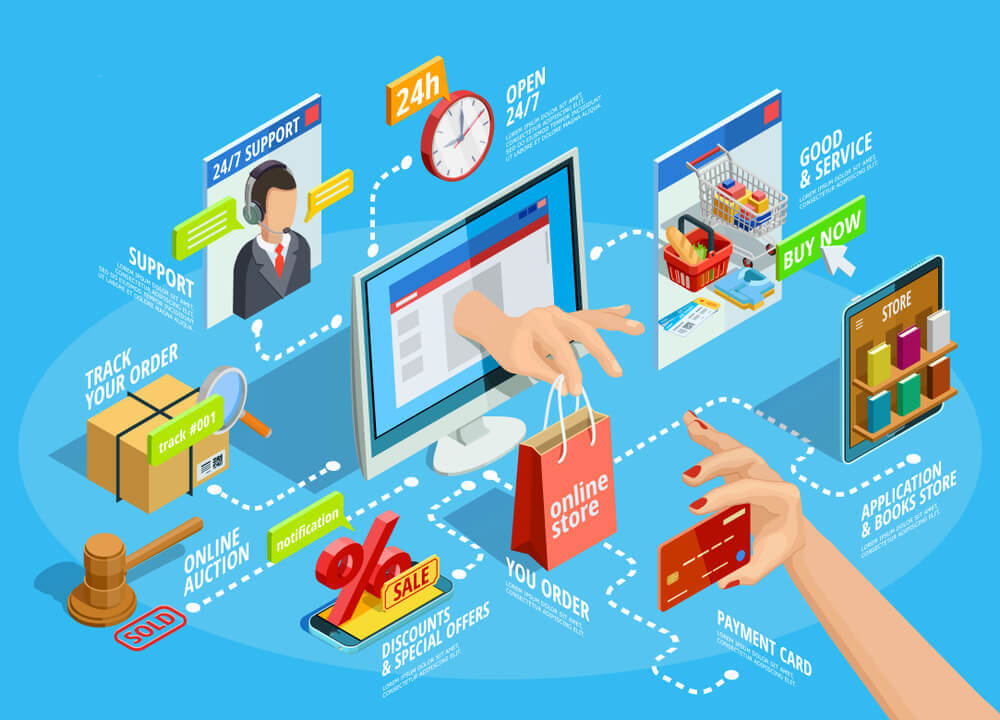 While it used to be that brick and mortar stores were the only means of buying products and services, this is no longer the case. With the advent of the internet, it is now possible to buy items from a variety of sources, including through online retailers via computers and smartphones.
With 67% of Millennials and 56% of Gen Xers preferring to shop online rather than in-store, this has created the need for eCommerce stores to provide an omnichannel shopping experience for their customers. In this article, we discuss how you can create a seamless omnichannel shopping experience for your consumers.
Selling Both Online and Offline with POS Systems
One of the foremost ways to create a seamless omnichannel experience is by allowing customers to purchase online and offline at the same time. Not only can this help to increase sales, but it can go a long way in ensuring that the customer's needs will be met. For instance, there are many platforms, such as Shopify, which have omnichannel POS systems that make it possible to pay for an item whether it is at a brick and mortar store or online. Not only this, but these POS systems also work great on mobile devices, such as Apple phones, and this adds to their versatility.
A primary benefit of this type of system is that it helps to integrate the buying experience. Therefore, if a customer is shopping at a store and only finds a few items that they were looking for, while the rest of the items are only available from the online version of the store, the customer should be able to purchase every item in a single order. Mobile POS systems make it easier for this to occur, by tracking all payments with one intuitive program.
Maintain a Consistent Brand Experience
An often-overlooked aspect when trying to create an omnichannel experience is the necessity for maintaining a consistent brand experience. All too often, retailers will have one specific style for their brick and mortar stores, while creating a far different appearance online. This can lead to a lot of confusion for customers and, in the end, it could deter buyers.
With this in mind, it is vital that both the online store and the physical store have a cohesive feel and style. In addition, with the increase in social media platforms being used as marketplaces, businesses need to understand that their brand ideas should be reflected in their social media posts.
Below you can see Zendesk main brand consistency across multiple channels.
Have a Unified Inventory
Inventory management can make or break a business, as customers are easily put off when items are out-of-stock, and this can hurt sales. By using technology, such as an inventory management system, to ensure that there is an integrated and common view of the products that are in stock, businesses can help alleviate the issues that typically result from insufficient product inventory.
In order to create an omnichannel experience, inventory systems need to stay up-to-date with any product changes and this needs to be relayed in real-time so that the consumer will be aware of any impending issues.
Customer Service Options
When a business operates only through a brick-and-mortar store, then there is less worry about customer service, as the shopper can quickly direct questions to a store employee. However, when you are creating an omnichannel experience, with much of the sales coming from online sources, this is not the case.
In fact, reports have shown that only 1% of online shoppers feel that their needs are always met, and this must be improved upon. To build a successful omnichannel experience, it is important that businesses expand their customer service by giving clients a variety of options to choose regardless of where the sales come from. This means that a company will need to have contact methods such as phone, email, standard mail, live chat, and even online self-service.
Below you can see Canyon Bikes offer live chat for their customers:
In an omnichannel environment, customers are going to be switching channels as they purchase items, and thus they will be expecting customer service to be available on all levels. It is also important that every customer service representative has access to the complete profile and purchases of the customer, so that seamless service can be provided.
In Summary
There is no doubt that the internet has revolutionized the shopping experience in an array of different ways. However, even with many shoppers heading online to purchase their goods, it can still be valuable to maintain a brick-and-mortar store at the same time by creating an omnichannel environment. In order to build an omnichannel experience, businesses need to take advantage of on-the-go POS systems so that payments can be accepted anywhere. It is also vital that companies maintain a cohesive brand both in their physical stores and online, as this will help retain customers.
In addition, having a unified inventory that is linked to a tracking system will go a long way in ensuring that there are no items that are out of stock, and if this is the case, customers will be made aware prior to placing the order. Furthermore, with omnichannel sales, it is imperative that businesses have multiple channels in which customers can get in touch with representatives to have issues resolved. By keeping these tips in mind, you will help to create a seamless omnichannel shopping experience for your customers.