By Ashley Brown on August 26, 2019 in Ecommerce Tips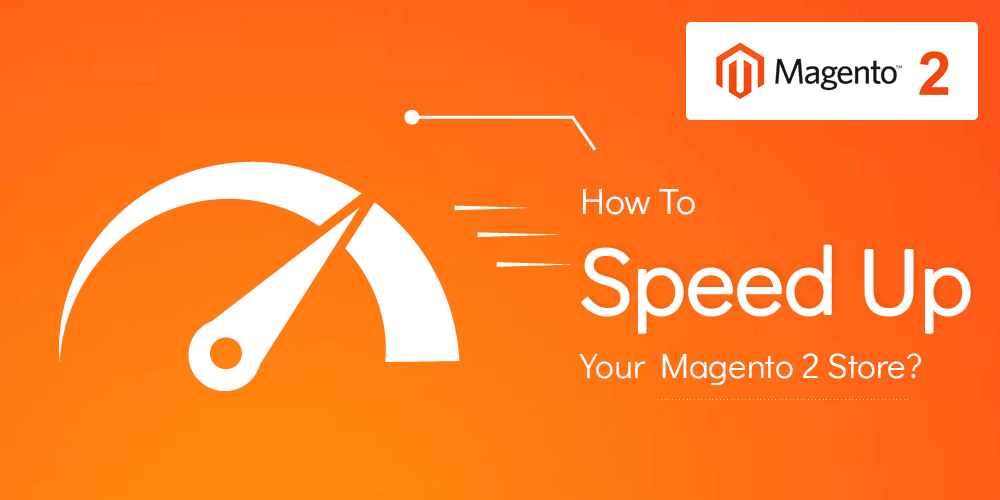 Magento is one of the most popular E-commerce development platforms. It is an open-source platform having incredible features that can be integrated to build a secure, smooth & engaging online store. It has multiple editions available community and Enterprise. Magento community edition is a free version, but to avail Enterprise version a small license fee needs to be paid.
When it is about selecting an E-commerce development platform multiple options are available like WooCommerce, Shopify, Wordpress and Volusion. The reason behind Magento success is its robustness, versatile nature, flexible and highly- scalable. Merchants can manage small inventory to large stock with the same admin dashboard provided by the Magento. In this blog, we will discuss important guidelines to speed up Magento performance. This is important to boost online sales, ROI and brand reputation.
1. Update to Latest Version
Timely updates are very important to ensure the version you are running is free from bugs and performance issues. There are a few steps required when it is about upgrading Magento software.
Install the latest version of Magento.
Run the installer on top of the existing database.
Move old version themes and custom extensions to the new one. 
Upgrading Magento to the latest version is far simple than the WooCommerce, Shopify & WordPress. The other benefit is important notifications are released on a regular basis to inform the users about upgrades.
2. Implement CDN (Content Delivery Network)
To reduce the load times of the website, the implementation of the CDN is very important. CDN is a technique to distribute content from multiple locations without storing it at a single place. This is a great way to serve buyers who always look for fast service from the website. A delay in the loading product page, image or description can lead to loss of sales, ROI and revenue.
3. Caching Techniques
There are several forms of caching option available with Magento. Several merchants have achieved great success by merging NGINX + APC + Memcache + Varnish caching. Magento comes with a built-in caching, but 3rd party seems to get a better outcome.
Browser Caching
Another caching form is the browser caching. You can add the below-mentioned snippets to your .htaccess file. Magento latest version includes .htaccess.sample which you can use to get the same results. However, if you're using the older version of Magento the snippets need to be manually added if not already defined.
Gzip Compression
It compresses the web pages and stylesheets at the server level before sharing it to the browser.
Expire Headers
It tells the web browser whether they need to request a file from the server or avail it straight from the browser's cache.
Page Caching
Page caching is a powerful means to speed up the Magento software. Load of the webserver is reduced by serving pages already opened from the cache, making the complete process faster.
4. Eliminate Unnecessary Extensions
That's right. You need to do it before performing any step. More than 60% of all the installed extensions do nothing in your store except taking up important resources. You might have seen a lot of modules are present from the past few months and never used since? They are just sitting in your Magento and making it slow. But there's something important to know first. Disabling an extension and removing it completely from the Magento are two different things. Disabling is an important step but it has a few limitations. The extension is still taking space in the system and making an impact on the performance. So the right choice is to completely remove the unused extensions from the store.
5. Clear Database Logs
Magento is a perfect platform for E-commerce store development, but the database performance it provides is not optimized. But, its performance can be optimized once its logs are cleared. Logs presence in the database leads to a lag in the execution process. Once removed the execution process and user request processing becomes fast. You might be having a perfect store, but should implement this step as a precautionary measure and make a habit to back up your database before clearing the database logs.
6. Optimize Content
To drive customers and make them engaged with the store, a lot of product images and videos are integrated. Every product has several numbers of images covering every angle. This consumes server space and makes it slow in the loading. To manage this situation proper optimization is required to improve the loading speed. Else, each picture that lacks optimization will slow the loading and the overall sluggishness of the E-commerce store. Hence, it is essential to upload the images after reducing its size and space with editing tools like Canva, and Photoshop.
7. Flat Catalog for Products
In Magento CMS, product attributes are stored in multiple database tables. By implementing the flat catalog for products, you can combine all product information into one instance for Magento to extract. It speeds up the time required by the system to respond to the database queries, hence improving the website performance. This is particularly important for the large product catalogs with a large set of items.
You can enable the flat catalog mode from the admin panel with these simple steps:
Go to System -> Configuration -> Catalog
Click Frontend panel
Set Use Flat Catalog Category and Use Flat Catalog Product to YES.
To enable the flat catalog in Magento 2:
Go to Store ->Configuration -> CATALOG -> Catalog
Select Storefront section
Set Use Flat Catalog Category and Use Flat Catalog Product to Yes
Track Website Performance
Online store's performance must be tracked on a regular basis. It is an important factor since it helps in finding out what affects the page loading speed, how new extensions will work, what can be improved. There are plenty of free and paid performance monitoring tools available. The page speed can be measured with GTMetrix, and Pingdom tool. Extensions can also be installed that can keep an eye on the website performance. 
Wrapping Up:
Speed is an important factor that decides the success of an online store. Magento is no doubt a fast, secure and scalable platform but in some scenarios, it lacks the speed which a user is looking for. We have discussed important elements which a developer can follow to boost the Magento performance. A fast online store responds quickly, boost ROI, conversion rate, improve sales and brings brand loyalty, which is very crucial to survive in the competitive market. On the other hand, a slow Magento store would make customers switch to another store, resulting in a loss of sales. This is why Magento performance is important and when looking for the optimization work it is essential to get it done by a reputed Magento Development Service provider. They will perform the essential changes to uplift Magento performance.