By Kristen Gramigna on June 12, 2019 in Ecommerce Tips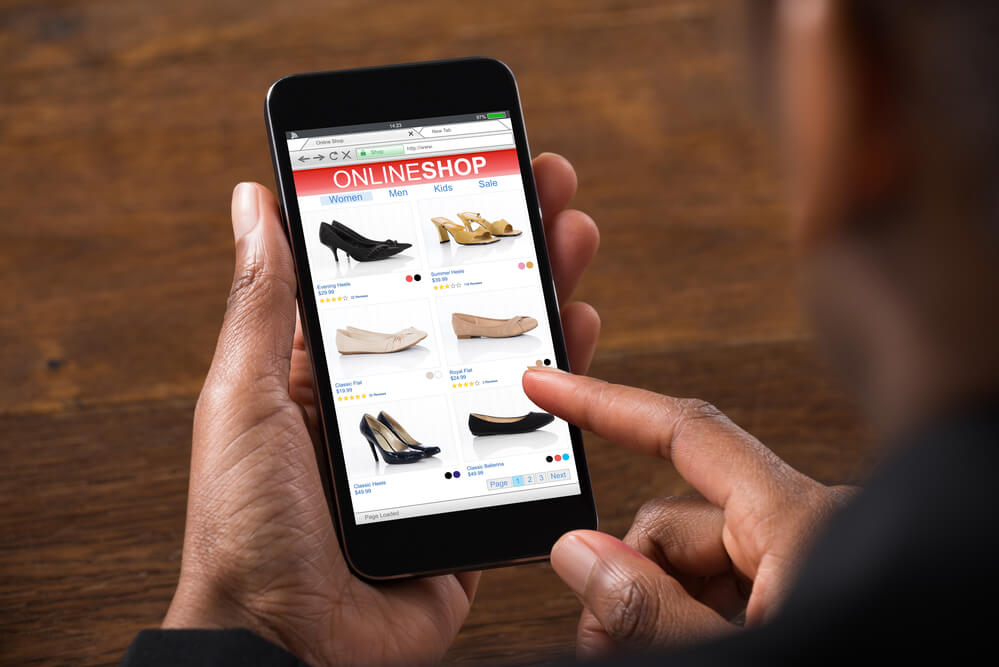 In 2016, mobile Internet usage officially overtook desktop and laptop browsing for the very first time. And in the years since, the gap has only widened.
Understanding why this shift happened is easy:
Modern phones and tablets are more powerful and affordable than ever before.
Advancements in cellular technology allow for faster streaming and downloading.
Portable devices are more convenient to carry than PCs. In fact, many Americans feel anxious when they don't have their phones with them.
Whatever the reason, however, this mobile shift isn't something any e-commerce merchant should ignore. Google certainly isn't.
The search company now uses the mobile version of websites in its ranking algorithm. And if your current site is built around traditional PC browser standards, you'll likely miss out on potential traffic — and by extension, potential sales. Fortunately, however, there exists a range of mobile-specific design strategies that can help you:
Keep the search engines happy
Attract more traffic to your site
Improve the user experience
Convert more customers
Let's take a look at six of the best methods for maximizing your e-commerce site for mobile devices:
1. Focus on "Mobile First" Design
Many modern websites employ responsive design, which allows the key elements of your site to shrink proportionally and look acceptable across all screens. But given the growing popularity of smart devices, "mobile first" design is increasingly becoming the preferred standard.
Instead of building desktop websites that also work on mobile screens, the goal of this design concept is to build mobile websites that also look good on desktop browsers.
And nowhere is this concept more important than in e-commerce, where catalogs and product descriptions often become cluttered if they're designed and formatted for desktop users.
2. Decrease Page Load Times
Users are more demanding than ever, with slow load times being a leading contributor to website abandonment. According to statistics:
Those users will eventually move onto another vendor, meaning you've lost a sale. And that's assuming they even find your site in the first place. In addition to mobile-first indexing, Google also now uses load speed as a ranking factor in its algorithm. The slower your site, the lower it will appear in the search results. And this translates to less traffic and fewer sales.
The good news is there are plenty of free tools that can analyze your site's speed, including:
These tools can even tell you what changes you need to implement to make your website faster. Just be sure to test the mobile version of your site, not the desktop version.
3. Make Search Easy and Obvious
Most e-commerce sites have search bars toward the top of the screen. Yours probably does, as well. But is that search feature easy to find on a mobile device? You might think so, but to really test that out, you should have a few outside participants do a search of your catalog from a smartphone. If they stumble or hesitate, your search feature isn't as obvious as it should be.
That is potentially dangerous. Navigating a large catalog can be frustrating on desktop browsers, but it's an absolute nightmare when browsing on a smaller screen. For inspiration on search bar placement, look no further than the mobile version of Amazon.com, which is the result of endless testing over the years.
4. Add More Videos
Google is the largest search engine in the world. Coming in at No. 2 is YouTube.  The explanation is very simple: people love videos.
As an e-commerce merchant, this is fantastic news because you can easily create product showcases, how-to demos, and feature comparisons — all captured on video. This delivers three important benefits:
Your e-commerce site will appear in the largest search engines in the world – Google and YouTube.
Videos keep users on your site longer, which increases your opportunity to convert customers.
Google uses "dwell time" as an important ranking factor in its search algorithm. More videos mean more traffic.
5. Avoid Sliders and Carousels
Animated carousels look cool and are favored by many web designers. But on mobile devices, these sliders are incredibly distracting. This is especially true if they auto-advance because:
It's hard to remember what you just saw
Are you seeing the entire product catalog?
How do you go back to that previous slide?
Even if you personally love the look of your site's carousels, consider disabling them for a few days to analyze whether this has an impact on conversion rates. You may be surprised.
6. Offer Guest Checkout
Many e-commerce sites require visitors to create an account before they can buy. The rationale is that obtaining email addresses allows you to continue the conversation with your customers. But requiring users to register a new account also creates unnecessary friction. This is true even when desktop browsing, but it's especially true for smartphone users. Have you ever tried to create a unique, alphanumeric password on a tiny mobile keyboard?
The fix is to offer a Guest Checkout option. You won't obtain as many email addresses, but you will make more sales. Even better, you might consider adding integrated mobile payment options, as well. Digital wallets like Apple Pay™, for example, eliminate the need to re-enter credit card numbers, CVV codes, and expiration dates with each new purchase.
One-click shopping is a great way to streamline the sales process. And depending on how you configure your payment environment, you might still be able to acquire each user's email address during checkout.
Enhance Your Mobile Design a Step at a Time
The idea of implementing these mobile design fixes may seem overwhelming; however, you don't need to make these changes all at once. Instead, choose just one mobile design tip to tackle first and use the extra sales generated to help cover the next fix on your list.
This piecemeal approach takes more time, but it also allows you to see what works and what doesn't — while keeping your investment to a minimum.