By Tania Horda on July 09, 2017 in eCommerce Design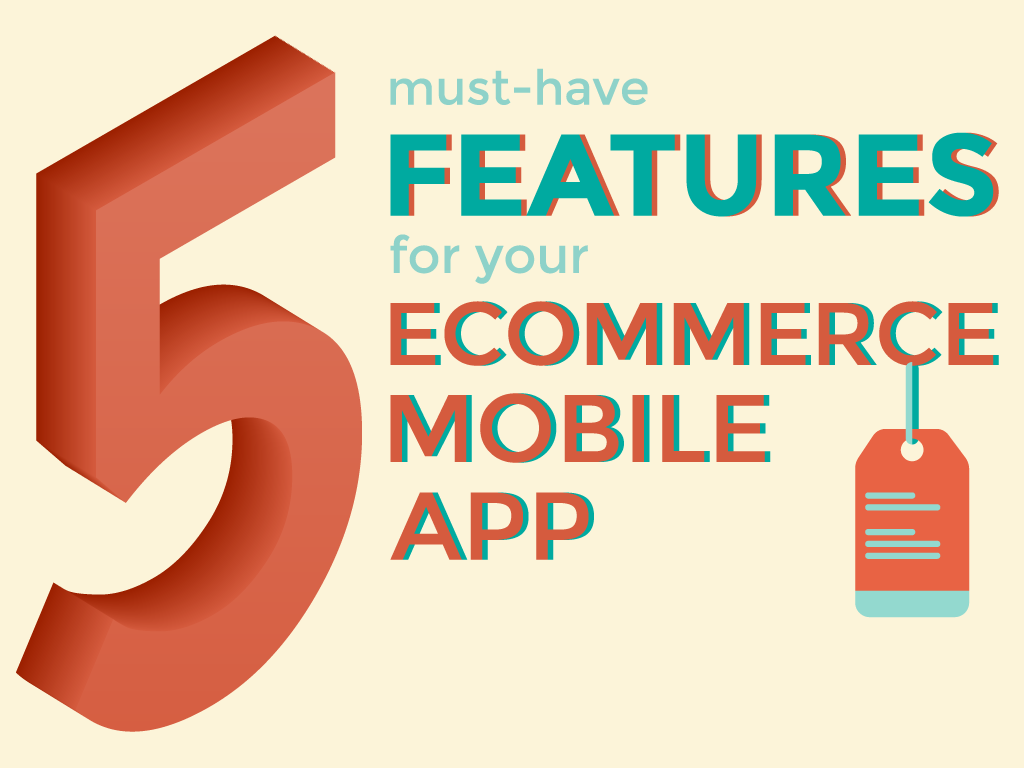 The biggest challenge that eCommerce web designers face today is building successful and profitable applications that engage customers, retain them, and fulfill their needs.
Recent research reaffirms that in the past three years the number of mobile applications users has increased significantly. According to a 2016 report by comScore, over 65% of users in the US prefer mobile apps to websites. Along with growing mobile device adoption, the use of mobile apps in eCommerсe is increasing significantly as well. Statista predicts that mobile eCommerce sales will increase by 2018 to at least three times what they were in 2013, reaching almost 200 billion US dollars.
So what does it take to grab and keep your customers' attention, and let them do shopping on-the-go in the most convenient way? Moreover, what is it up to you to stand out from your competitors, and get your share of the projected mobile eCommerce sales? We suggest focusing on the following must-have features that will make your app awesome and will address your key business challenges.
#1 UX Personalization
The core component of each successful mobile app is personalization. It's even more important to consider the approaches for personalization if you are working exactly on eCommerce mobile app. Personalization aims to create a sustainable user experience that meets, or even exceeds, the user's demand. Strong personalization creates an impression that everything looks and works well, is convenient, and is adjusted perfectly right from the start. You can personalize the user experience of your eCommerce app in many ways, including the following practices:
Design for Personalization
Your eCommerce application design should be attractive, engaging, and relevant to your users. Along with being visually appealing, the design may reflect seasonal events or holidays. As special offers and discounts often accompany seasonal events, such personalization will allow you not only to stand out from competitors but also boost your sales.
Another idea is allowing your users to create personal profiles, set their preferences, manage displayed content, and use geolocation. Design for personalization is also a great opportunity for you to implement your UX strategy and show how you care about your users.
Breadcrumb Behavior
Breadcrumbs, used in mobile eCommerce, help users browse products, navigate an application's hierarchy efficiently, and return to a previous product list or the main application menu quickly and easily. This feature also aims to eliminate illogical jumps while searching for products and prevent customers from getting stuck on pages. Breadcrumbs also reduce the bounce rate through keeping users in the application as long as possible.  
Uncluttered Layout & Simple Navigation
While working on an eCommerce mobile app, it's important to bear in mind that mobile devices have limited screen sizes and space for content. This limitation demands a simple and uncluttered layout, neat navigation, and relevantly displayed content. To meet these requirements you may use a responsive web design, which automatically fits all screen types and resolutions. However, building a separate eCommerce mobile app is an even better solution, as it allows you to create an immersive experience and makes it way more convenient for users to do shopping on a mobile device.
Filtering Options
Optimizing the types of products that are displayed in the app, provides the best shopping experience to your users and saves their time. Along with the regular filters like the brand, color, and price, you may set up advanced options that will add the personalization effect. For instance, creating an online bag store, you may let customers filter items by material, closure type, print, compatibility with tablets or smartphones, and even vegan-friendliness. You may also refer to user preferences and in-app history to set up filtering options.
#2 Seamless Onboarding
Now that you have addressed the issues of minimalistic design and other essential UX tips, it's important to provide a seamless way to onboard your users. Streamlining is the key to making onboarding as smooth as possible. As most of the mobile users tend to glue to social applications, it's a good idea to integrate your application with social channels. This will facilitate your users to sign-in smoothly and eliminate the need to invent and remember another password. Make sure they easily understand the philosophy of your brand and the main features of your application. Don't forget to guide them through online payments in your app. Make all your directions simple and intuitive.
#3 Push Notifications
Push notifications are a powerful tool to assist your users in shopping. This feature is strategic, as it naturally inspires users to take immediate action and therefore may boost your sales significantly. Implementing push notifications allows you to provide your users with information on special offers, discounts, and exclusive promotions.
Push notifications may also be used to remind consumers about uncompleted orders left abandoned in the cart, share products similar or related to their previous purchases, or inform them about new arrivals and products in stock. To make sure that this feature is not annoying for your users, go around by asking them if they want to get any notifications and let them set it up.
#4 Feedback Mechanism
The only way to build trust with your users is to give them a chance to share their feedback. It's crucial to provide users with a convenient mechanism for reporting and sharing suggestions and complaints related to your app. What's more important, you should consider how to respond to users and how to share updates and improvements based on their inquiries. Your users will appreciate your openness to their feedback. An easy feedback mechanism accompanied by your wholehearted support will bring your app credibility and trust based on reviews of your satisfied users.
#5 Ease of Use
To attract and retain customers, you should keep in mind that they want to get everything quickly and easily. This means that your eCommerce application should provide them with clear search mechanisms and all the key categories, features, and filters, and should eliminate any confusing steps that may keep them from making a purchase. Investigate the user's behavior and eliminate all the difficulties they may meet. Remember, that even loyal consumers may simply delete the app from their smartphone if it adds them issues instead of offering the solution and help. Simplicity is the key to make your eCommerce app popular and widely used.
Another important thing is the amount of information your mobile app provides. It's crucial not to overload your users with the amount and variety of content, and frequency of notifications. Focus on the key information which your consumers will most likely look for and let them reach this information easily.
---
With the growth of the mobile eCommerce market, it's becoming challenging to compete for users' attention and loyalty and create an excellent mobile app. However, we believe that the best practices we've shared in this article will help you stand out from your competitors and increase your eCommerce sales. Of course, along with the must-have features we suggest, there are plenty of other features which may add positive user experience to the app depending on your specific business goals and target audience. In any case, guiding your users through the application, showing that you care about every one of them, listening to their needs and responding patiently will lead you to success.