By Jessica Bruce on June 17, 2019 in Marketing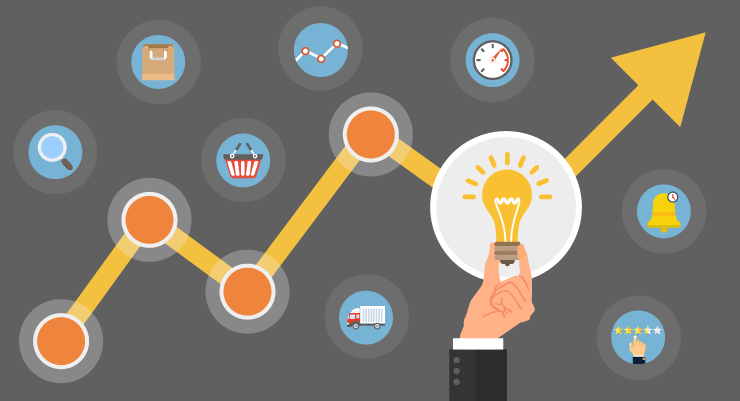 When an eCommerce website starts its journey, its first battle begins with a race to get as many visitors. This race continues for a lifetime and an additional phase also kicks in between – the acquisition of as many conversions. An eCommerce business cannot just survive with mere website traffic, it needs to acquire conversions to attract revenue.  
What does conversion mean for an eCommerce business?
An eCommerce conversion is an action by a user that is linked to some specific goals of the business operation. Now the goals can be linked either directly or indirectly to the revenue channels of the business.
The goals that directly affect the bottom line and links to the revenue are termed as Primary conversions. For example, getting a sale. The goals link indirectly to the revenue channel, by accomplishing the actions that have the potential to bond the user to primary conversions in the future are called secondary conversions. For example, newsletter subscription, account sign up, add to cart action, add to wishlist, app download, etc.
How to calculate conversion rates?
Conversion rate is calculated with respect to the desired goals out of the total number of visitors on the website/app. So,
Primary conversion rate= Total number of direct conversions/ Total number of visitors
Secondary conversion rate = Total number of indirect conversions/Total number of visitors
Overall conversion rate= Total number of conversions/Total number of visitors
How to begin with conversion rate optimization?
The foremost task before starting your conversion optimization campaign should be analyzing your current optimizations and where you stand in terms of conversion rates. Doing so, you can identify your baseline and see if your optimizations are working. In this way, you would know if your approach is working in favor or just failing the current landmark.
5 proven CRO Hacks to improve conversion rates
You can rely on this 5 CRO hacks that have been used by many eCommerce businesses and have helped them boost their conversion rates positively. Be advised that these methods have worked for most, but that does not mean you should adopt them blindly. What works for everyone does not mean would definitely work for you.
I suggest analyzing your business case first to understand the odds. You should also rely on A/B testing before finally implementing a change on your website or mobile app. Doing so will give you a better insight into your business case and how your users are perceiving the change. 
Having said that here are the 5 CRO hacks that experts suggest for most of the eCommerce businesses-
CRO Hack #1: The charm of Free Shipping is irresistible
What do most shoppers love next to cheap product pricing? – Free shipping.
Every eCommerce site owner knows that users crave free shipping. However, many just ignore the necessity for presenting it in the best possible way. There are two possible loopholes with your presentation of the shipping cost.
You don't declare the shipping cost before the checkout page. It makes the additional shipping cost to come out as a surprise to the users.
Despite charging for it, your shipping is very slow. Some users don't care about the shipping cost if they can receive the product fast enough.
Though it's a fact proven in a Deloitte's research that 88% shoppers prefer 'Free shipping' over 'Fast Shipping', there are still that 12 % who for some reason want the products to be delivered quickly. Also, 93% of shoppers prefer to get free shipping over discounts.
With this data, we can conclude that the following two optimizations will let you target a wide array of audience with different preferences:
Offer multiple shipping options including free and paid ones as quicker options.
Declare the minimum shipping cost before checkout page. The best possible page is the product page itself. You should also include the same in the cart review page as well.
Amazon does quite a good job with its shipping options. It declares the same on the product page as well as in the cart review page.
On the contrary, offering free shipping will, of course, result in overhead expenses. To tackle this, you can include the shipping cost in the retail price itself. As we know most customers prefer free shipping over discounts, they will more be inclined to purchase if free shipping is one of your offerings.
CRO Hack #2: Speed can make or break your conversion rates
If customers crave for free shipping, they hate slow websites much more than that. It gets even worse on mobile.
Website speed is important not just for Google SEO, but also for minimizing the bounce rates and thus improving the conversion rates. Slower is your website, lazier is the conversion rate. About 53% of your visitors on mobile devices will immediately abandon your site if is taking more than 3 seconds to load.  
Thus, the closest CRO hack to achieve boosted conversions after free shipping is reducing the website loading time. You can use the tools like Google's Page Speed insights and Test My Site to check your sites speed on different devices.
The best part is, these tools also give detailed reports with suggestions to improve the page loading speed and where you stand in the competition with your rival sites.
CRO Hack #3: Most users jump off the conversion funnel from the checkout page
Check out the following 10 major reasons given by the Baymard Institute for shopping cart abandonment: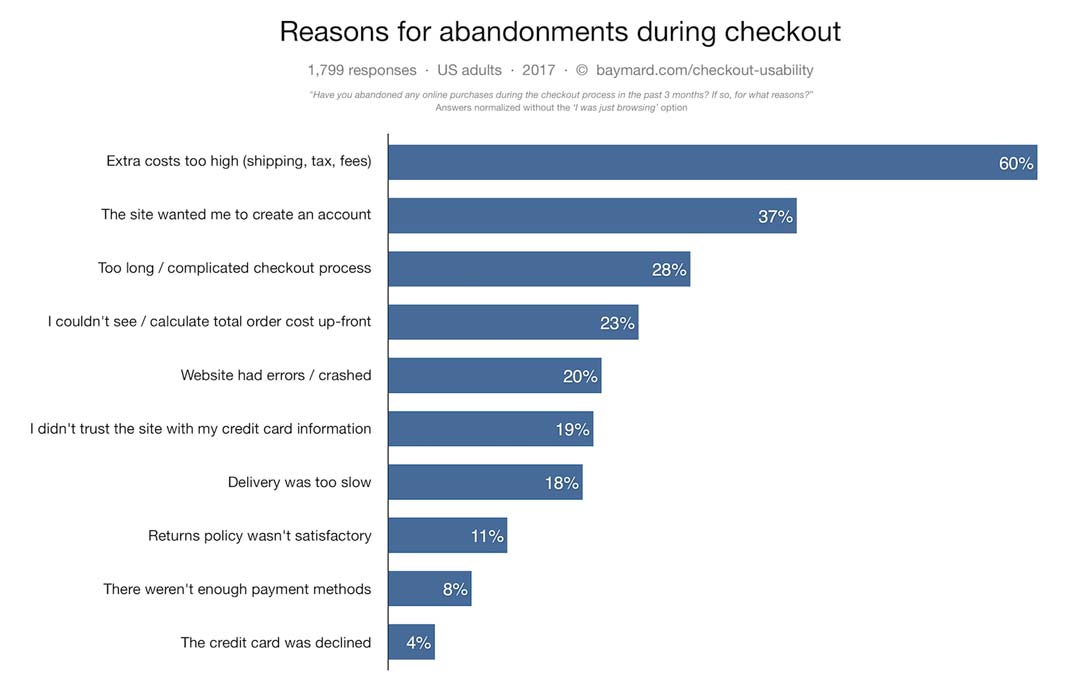 Did you see a pattern?
At least 8 of them directly or indirectly impact the conversion rate because of an inefficient checkout process.
It takes a lot to bring people to an eCommerce site, and then to the checkout page. You may implement a whole lot of rocket science in your website, but a single pitfall in your checkout funnel will just flush out everything and users will not take a second to click on that close window button. It's a shame.
The best way to improve conversion rates is by avoiding the pitfalls that cause shopping cart abandonment, and checkout page optimization is the best of the ways to do that.
Optimize the checkout page loading speed.
Ask for less. Autofill the details you know already.
Allow users to choose the same billing and delivery addresses.
Allow users to check out as a guest without registering a user account.
Allow users to log in or sign up using social login.
Catch form filling errors on stop with Ajax-based dynamic form validation.
Reduce the number of fields in checkout form to as low as possible.
Offer multiple payment methods (CC, Debit card, Net banking, etc.)
Mention all your accepted payment methods on the site footer:
CRO Hack #4: The power of online trust factors
Each day a new eCommerce site joins the league. It's really challenging to get customers to trust them. Running an eCommerce startup in such a situation is next to impossible; forget about getting conversions.
To tackle this, utilize the factors that every other online customer trusts. I am talking about a few crucial optimizations that will boost up your site's credibility and customers will start trusting it. Implement the following optimizations and getting customers to trust you won't be a big concern:
Migrate your site to HTTPS using SSL certificate if not done already. E-Commerce sites carry out huge monetary transactions each second. An SSL certificate becomes even more crucial to keep the customer and payment data safe. Not just that even Google practices HTTPS as a ranking signal, but also marks HTTP sites as unsafe.
In addition to the SSL, you should implement the following optimizations as well-
Embed a live chat for customer support
Use the live chat to also offer guided shopping.
Offer COD at least in the beginning phase of your business.  
Allow customers to return or replace a purchased product.
Allow customers to submit product reviews.
Put seal of trust on the payment pages, website footer, and other noticeable locations.
Share your physical office address with other contact information in the Contact Us tab.
Leverage blogging and social media to share real case-studies and behind the scenes of your business etc.
CRO Hack #5: Nothing works better than re-marketing
Re-marketing is a broad term used to define a number of scenarios. However, the primary objective is always to get old users back on the site and convert them. There are many reasons why people don't purchase from a site in a single visit.
Out-of-stock products
Products priced very high
Absence of preferred payment option
Higher shipping cost
Window shopping etc.
In fact, 90% of users convert only after returning from their first visit. Not just that, returning customers are more likely to double the cart value, giving you greater conversions. These users are too crucial if your aim is to boost your conversion rates. In fact, 49% of eCommerce customers research on at least two websites before making the final purchase on one of them. 
Re-marketing acts a holy grail for eCommerce by convincing such users to purchase from a particular website. It helps to optimize the chances of conversion by using methods like:
Cart abonnement follow up
Google ADX Ads retargeting
Signups for stock alerts
Signups for price drop alerts
Wishlist reminders
Email follow-ups
While there are various tools to implement re-marketing, I recommend using Google Ad manager -ADX. They aren't just efficient in showing ads to relevant users but also re-target users using its Ad exchange across the web and social media platforms.
Conclusion
There are indeed hundreds of more ways to improve CRO, but like I said earlier, not all work best for everyone and every other eCommerce platform. It is important to identify the baseline and analyze the users' mood before doing any optimization. Use A/B testing and carefully examine the modifications before you blindly adopt any optimization tip from anyone. There are several other factors that combine together to improve the conversion rate of an eCommerce site. Lastly, if Amazon is the best performing eCommerce site today, it doesn't mean copying their orange color CTA button will also give your business similar conversions.